27 July 2014, Amritapuri
Minority Commission of the Govt. of India Member, Shri. Thykkuttathil Zakkeer met Amma today in Amritapuri along with his family during darshan. He offered to Amma a Ramadan gift of a plaque engraved with auspicious prayers from The Holy Quran along with sweets and fruits.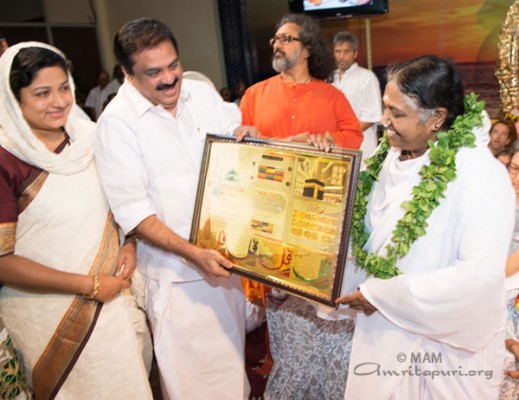 He also invited Amma to share her thoughts on the eve of Eid al-Fitr. Amma shared the following message in response to his request.
"Sacrifice, charity, compassion and knowledge – these are the values imparted by all mahatmas and scriptures. Prophet Muhammad and The Holy Quran ask us to follow these very principles. We have to take this message  into our heart. This does not mean just acquiring an intellectual understanding. Rather, we should translate these principles into action in our lives. In so doing, we will feel love and compassion for our fellow beings.
"The exchange of Ramadan gifts symbolizes both giving and receiving. Through this process of sharing, we build a bridge of love and universal brotherhood. That feeling of love and unity is something we should strive to maintain forever, throughout our lives.
"The sun doesn't need the light of a candle. Likewise, God doesn't need anything from us. Even so, for those who are suffering, let us go to their level, listen to their problems, strive to understand them, and console them. That is the best way to receive God's grace. Like the moonlight of Ramadan, may our hearts also fill with the moonlight of love. May this love be the guiding factor for the whole world."
– Tulasi