3 May 2014 – Amritapuri Ashram
More than 1,500 women from various parts of India poured into Amritapuri for the two-day event "A Celebration of Empowerment." This was the capstone event of AMMACHI Labs' Women Empowerment project, co-funded by the United Nations Democracy Fund (UNDEF) and Amrita University. The participants all shared one thing in common: they were graduates of AMMACHI Labs' unique computerized vocational education and life-enrichment education courses.
Video: Amma talks about the plight of women and relates a heartrending true story that illustrates why programs like AMMACHI Labs' Women Empowerment project are so important. This project successfully trained more than 3,000 women with vocational and life skills in less than 18 months.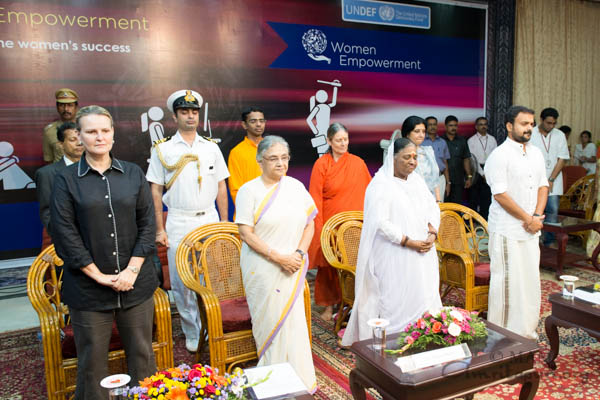 The chief guests of the celebration, who graced the dias along with Amma, were Her Excellency the Governor of Kerala Smt. Sheila Dikshit; the Head of the United Nations in India, Ms. Lise Grande; and renowned film actor Kunchacko Boban.


Ms. Grande praised the AMMACHI Labs' Women Empowerment project, saying, "[The United Nations] scours the world looking for the best projects, the most innovative projects, the projects which will have the highest impact. The one we've chosen for India is this project, and we chose it because AMMACHI Labs is the most creative way of empowering women. Of all of the projects which the UN funds around the world, this is the one dearest to our heart. It's the one were most proud of. And it's the one that we intend to take to the rest of the world so that they can learn from what you have achieved."
Over a span of 18 months, 3,136 women were trained via 28 of Ammachi Labs' Women Empowerment Centers across Kerala and Tamil Nadu, both permanent and mobile. In the process, they set up 30 Self Help Groups, seven small businesses, and earned a collective income of more than one million rupees [Rs. 10 lakhs] within 3 months of completing the course. Courses included plumbing, fabric-painting and jewelry-making. Furthermore, the graduates also led more than 70 community awareness and action campaigns, ranging from alcohol abuse to environmental protection.
"Empowerment to us is more than mere economic success. The goal is to equip women with an enhanced ability to participate in the democratic process and increased capacity to make decisions at the individual, family and community levels," said Director of AMMACHI Labs, Professor Bhavani. "Economic and socio-economic empowerment of women were achieved simultaneously through the delivery of AMMACHI Labs' cVET and LEE program, both tailored to the participant's specific needs."
Governor Dikshit praised Amma as both a humanitarian and a spiritual leader. "Amma, in the spirit with which she works—with love and compassion and an ever-smiling face—gives us all the courage to stand up and live by the ideals that she has taught us. … My congratulations and grateful thanks to her for having given confidence and equality to our women."
Both UN Representative Grande and Governor Dikshit, together with Amma, then awarded prizes to 23 women who's AMMACHI Labs' Self-Help Groups have excelled since their training.
Award-winning actor Kunchacko Boban offered his support of the project and said, "Women Empowerment … is something the Mata Amritanandamayi Math understands, not just in words, but in deeds."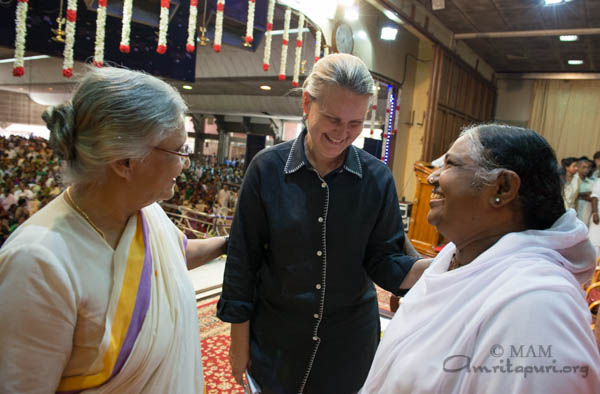 The program concluded with a short talk by Amma. "Today is a day of joy and satisfaction," Amma said. "Women face many difficulties and challenges in daily life. It is good if we can help inspire them. The difficulties that the common woman faces in her family and social life are not small. There are economic problems, family problems, safety problems… For women in such circumstances to be able to find a profession and thereby stand on their own two feet comes as a great source of relief for them. That said, even then, problems persist—problems at home, problems with their children, problems at work… When these combine, it can be a tremendous weight to bear. When such women are provided with self-confidence, training and wise-counseling, their lives develop new meaning. In reality, the key to woman's liberty lies in her own hands. In order to realize this, women need determination, forbearance and constant effort. On our part, we need to provide them with a little encouragement and guidance. If provided with the right opportunities, any woman can become a role-model for society."
Amma then gave darshan to all the women and to their families. These ladies had put up stalls in the ashram to showcase their achievements. The stalls contained artwork, jewelry, painted fabrics, bags, pillows and other products they had produced. But when visiting the stalls, nothing shined brighter than the confident smiles on the faces of the Women Empowerment graduates.
– Kannadi