15 April 2014, Amritapuri
Excerpted from Amma's message during the occasion of the Vishu Celebrations at Amritapuri
Vishu is a festival that is deeply connected to our culture and to nature. When we hear the word Vishu, what first come to mind are images of the golden kanikkonna flower and vishukkani. The importance placed on taking in the darshan (vision) of vishukkani—the traditional cornucopia of Vishu—upon waking Vishu morning symbolizes the importance of entering the new year seeing goodness and thinking good thoughts. Whatever activity commences with the remembrance of God will be auspicious. Taking in vishukkani upon waking helps us begin the new year with the darshan of God and nature.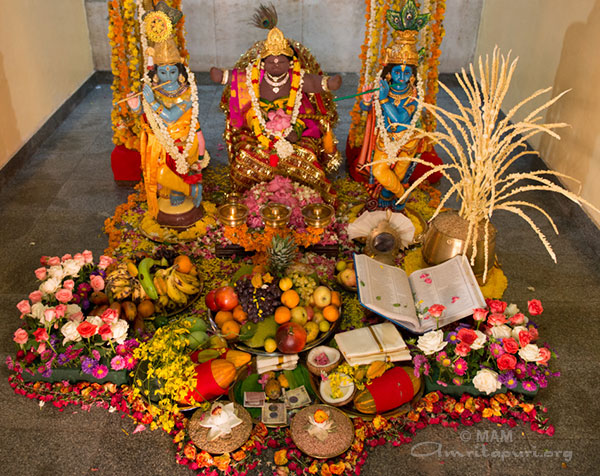 The belief is that this auspicious vision will bear fruit that will stay with us throughout the year. Even in the drought and heat of the summer, nature is able to bring forth golden kannikonna flowers. This is nature's teaching to us: Even in the midst of difficult times, happiness can be found.
On Vishu morning, in every house, the mothers and grandmothers go to each room and wake up the children and other family members. They cover their eyes and lead them to the altar room. When everyone is standing before the image of the Lord, they remove their hands. The children open their eyes and behold the beautiful form of the Lord and the different facets of the vishukkani. Their hearts fill with devotion and enthusiasm. That is like a deposit that they then can draw upon throughout the year.
Another meaning of the word Vishu is "being equal." Vishu takes place when day and night have the same duration. Thus, it symbolizes how we should be able to accept both joyful and difficult circumstances with mental equanimity. Ordinary people become egoistic in success and lose strength when painful experiences occur. The reason we lose our mental strength is our failure to put God first in our life; these days, our first priority is the external.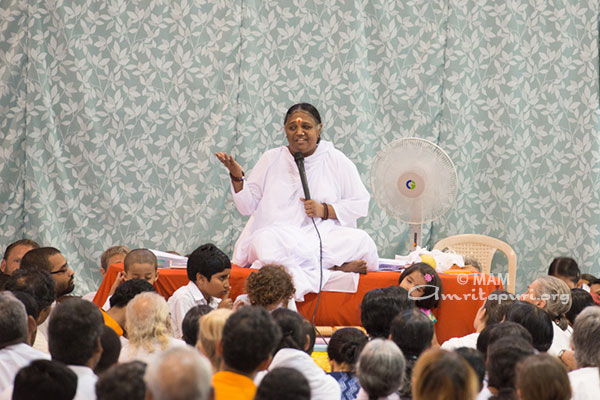 Life can bring us any kind of experience at any time. It can be criticism; it can be praise. It can be joyful circumstances; it can be sorrowful ones. It can be success; it can be failure. Anything can come at any moment. This is what life is. If we are to face these varied experiences with equanimity, then we should be prepared to give up our likes and dislikes.
When difficult times come, some people take solace in thinking that they are reaping the fruit of selfish actions that they have performed in the past. This is a good attitude. Another practical approach is to accept all of our experiences as God's prasad. To cultivate this attitude, we must first see all of our actions as offerings to God. When we surrender all of our actions to Him, we will then start being able to accept everything that comes to us in life as prasad in return. Then we will be able to see all experiences equally, transcending attachment and aversion.
The greatest jail is our ego. Currently we are imprisoned in this self-created jail. A bird in a golden cage—provided with all types of food and toys—is still deprived of the all-expansive sky. Children, let us try to come out of this jail called the ego.
Vishu is an occasion to remember how important it is to love and serve the Creator through the creation. My children, strive for this. We should also love nature. There is so much pollution in the atmosphere today. In the olden days, when someone had a wound, they would apply cow dung to it to help it heal more quickly. If we were to do this today, the wound would only become infected. What once was medicine has today become poison. Our air, our water, our food—everything has become polluted. When you chop down a tree without a true necessity, you are, in fact, building your own coffin.
Let us use our time in a manner that is beneficial for ourselves and others. Let us try to do what we can. Let us reach out to nature and our fellow human beings. May we help make this world a tree full of flowers of happiness and fruits of peace. May every day in your life be filled with the joy and auspiciousness of Vishu.