16 April 2014, Ashramam, Kollam
Amma was invited to light the lamp and inaugurate this year's Kollam Pooram, a massive annual temple festival hosted by the Sree Krishna temple, Asramam. Attended by a large number of people, the festival is marked by delightful spectacles including elephants colourfully decorated with rapidly inter-changing ceremonial umbrellas (kudamattom), traditional drumbeats (melam) and pyrotechnics.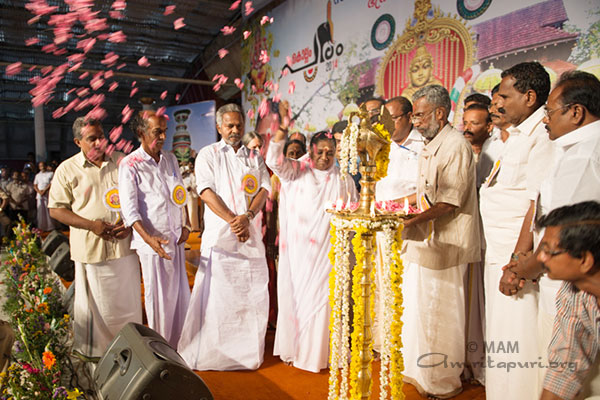 With throngs of participants looking on, Amma lit the ceremonial lamp and gave the benedictory address. In her speech, she said, "Amma is really happy to participate in the Pooram celebrations. The people of Kollam forgetting all differences and working together with love, understanding and faith is what makes this celebration so special. May this attitude be also reflected in each of your actions in your day-to-day life. In this way, not only this day but each day of your life will become a celebration."
In her 15-minute address, Amma stressed the importance of cultivating a vision rooted in spiritual understanding and universal values. She also talked about the importance of seeing God everywhere, and the way that will translate into a compassionate attitude and a life filled with divine grace. "Temples are places where we can feel the presence of God. That's good, but it is not enough just to see God in the temple – we have to see God in every aspect of Creation." Amma continued, "We must always have a place for others in our heart. In fact, it is this compassion that makes us receptive to the factor of divine grace in our life."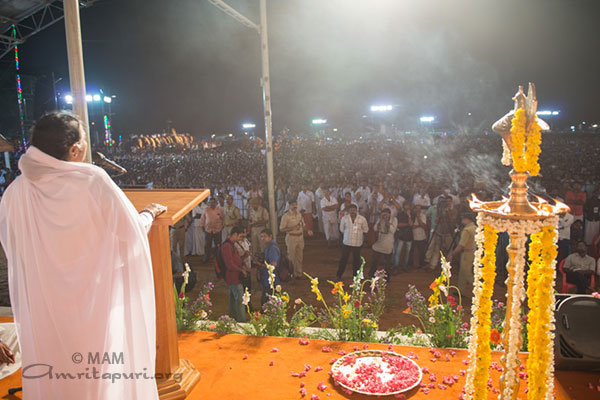 On her way to the festival, Amma visited the Sree Krishna temple proper and spent some time there. The festival itself is held at the Asramam Maidanam, one of the biggest festival grounds in Kerala. The massive crowd of festival participants was framed by 15 elephants in full regalia on either side, representing the nearby Ganesha and Devi temples.
This is a historic occasion. Amma is attending this kind of festival for the first time. The people of Kollam and the festival organizers expressed their sincere gratitude for Amma's presence, and their hope that with her blessings, the Pooram festival will become an international event for peace and harmony.
– Kannadi