On the way to Mangalore, Amma and the tour group stopped for lunch at Amrita Vidyalayam in Thrissur. On top of the 600+ indian and international children on tour the students of ASHIS (the Amrita Speech and Hearing Improvement School) had the chance to spend two beautiful hours with Amma.
ASHIS is one of the few schools in Kerala that scientifically teaches hearing-impaired children to speak. More than 120 students attend the school. The children have a 100 percent pass rate in the Secondary School Leaving Certificate Exam and do very well in obtaining employment.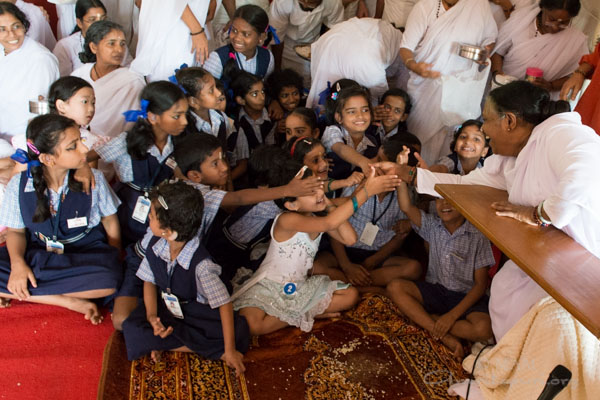 The faces of the children lit up as soon as they saw Amma and each one of them wanted to grab her hand. Amma called them to sit right next to her chair, so that she could interact with them closely.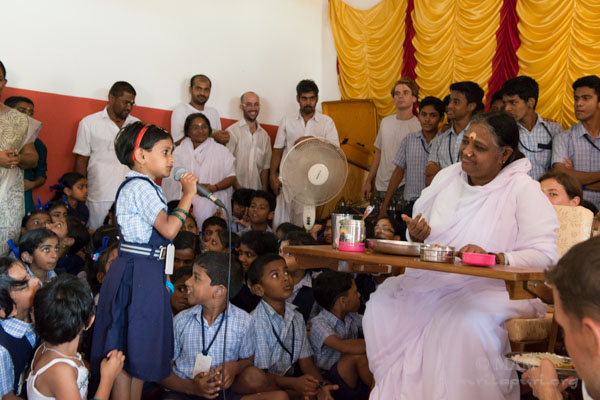 One by one Amma asked the children to recite the songs and verses they had learned, despite their hearing disability. Roaring applause followed each one of the short presentations, which the students gave full of confidence and a beaming smile on their faces.
Amma taught them how to say "Om Namah Shivaya". She slowly pronounced each word and made very clear facial expressions to help the children catch the sounds and repeat them correctly.
It was very touching to see these happy and well-educated children spend such precious moments with Amma, who had not only taken full care of their academic education, but also provided them with a loving spiritual environment in which they can flourish, build up their self-esteem and explore their potentials, regardless of their disability.
Next Amma asked members of the tour group to tell stories with a spiritual meaning.
Gaurang, one of Amma's North American devotees, told about the transformative power that Amma's advice for the new year 2013 has had on him and his family. In her satsang Amma said that instead of making new-year resolutions, which we would break anyways, we should instead try to forgive and forget the mistakes of others. Taking Amma's advice to heart, Gaurang wrote an email to his step-father, to whom he had not spoken to in years. In fact, during the past 20 years they were never able to establish a real loving relationship and instead ignored and avoided each other. However, now both of them felt that it was time to reconcile and planned to spend time together when Gaurang would return to Canada prior to the North American Tour 2013.
Shortly afterwards his step-father was diagnosed with terminal lung cancer and the doctors gave him only a few more months to live. Gaurang was asked to return to Canada by his step-father to prepare him for his passing. During that time their relationship deepened profoundly as Gaurang introduced his step-father to Amma's teachings and guided him in various spiritual practices to help him cope with the challenging situation. As his physical strength diminished, Gaurang led his step-father in a breathing technique, which included the chanting of Om. It was while chanting this sacred syllable that his step-father looked over to him with wide eyes and slowly closed them, leaving his physical body filled with peace and grace.
Gaurang expressed his gratitude to Amma for having given this simple, yet powerful advice for the New Year, which has resulted in reuniting his family and overcome the bitter memories of the past.
Amma concluded by commenting that we can only experience peace if we let go of our anger and resentment. We should not allow such negativities to rot in our minds, which would prevent us from opening up and experiencing true peace and contentment in the present moment.
After one last loud and proud "Om Namah Shivaya" by the students of ASHIS, Amma and the tour group continued their journey to Mangalore, the first stop on the 2014 Bharata Yatra. Everyone felt not only nourished by Amma's prasad, but also tremendously inspired by Amma's words and deeds – the seeds of transformation that Amma spreads wherever she goes.
-Nath