15-16 Feb, Mangalore, Karnataka – Bharata Yatra 2014
After a 20 hour bus ride from Amritapuri, Amma and the tour group arrived at MAM Mangalore in the early morning hours of February 14th.
The same evening Amma called all local devotees and tour staff to receive her prasad dinner and join in what turned out to be a grand celebration to start this year's Bharat Yatra. As Amma sang two new folk songs the programme venue turned into a festival ground where young and old, Western and Indian children alike danced and cheered.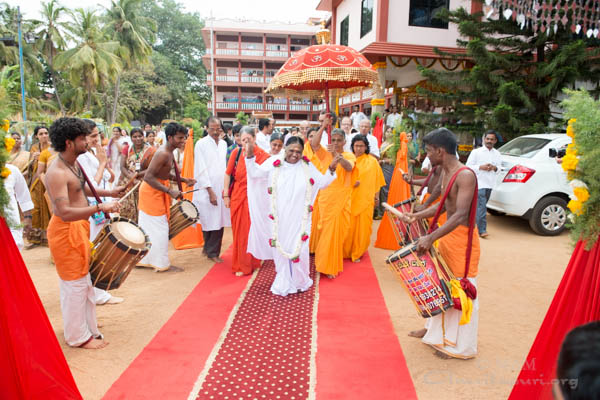 The itinerary of the first part of the 2014 Bharata Yatra is somewhat unusual as compared to previous years. The tour started in the state of Karnataka north of Kerala and will then continue south back to Kerala. Since only one city in Karnataka is included, devotees from all parts of the state traveled to Mangalore so they would not miss the rare blessing of Amma's presence in the state.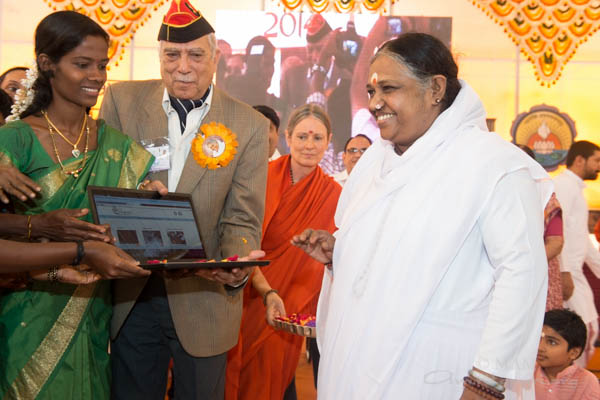 Former Deputy Chief of the Army, Lieutenant Gen (Retd) Dr. NS Mallik, and play back singer Ravi Kiran took part in the public function on February 16th, during which Amma handed over scholarships to 75 students.
MAM also announced a large new charitable venture, the adoption of Karnad village (near Mulky) under the 'Amrita Self-reliant Villages' programme.
One part of the project will include free computer-supported vocational training for local women. To launch this aspect of the programme, Dr NS Mallik distributed free laptops with the vocational training software to the village women.
Addressing the gathering, Mallik said, "I am inspired by the work that Amma undertakes towards the betterment of society. I consider myself a soldier of the spiritual leader Amma and will walk in her footsteps. In fact, we are all Arjunas and Amma is our Krishna. Let us follow the values of love and goodwill that Amma puts into practice."
MAM pledged to provide all the basic facilities, including education, to the villagers. For the past few months AYUDH volunteers have already been visiting the village to do seva and conduct spiritual programmes. Karnad is one of 101 villages in India that has been selected by MAM to be turned into a self-reliant role model village for the country. It will receive all necessary support by MAM to establish the required infrastructure, training and healthcare to achieve this goal.
During both programme days, 15th and 16th of February, Amma sang many new songs in Kannada and also led the manasapuja in the local language. Children from several Amrita Vidyayalam schools presented a variety of cultural programmes. As one of there main seva on tour, many of the Ashram's international volunteers participated in the ABC Campaign to keep the programme venue and surrounding places clean, recycle trash and educate people about public hygiene and health.
– Tulasi