18 Dec 2013, Amritapuri
Amma's children from Bali, Indonesia performed four beautiful classical dances  during the darshan time.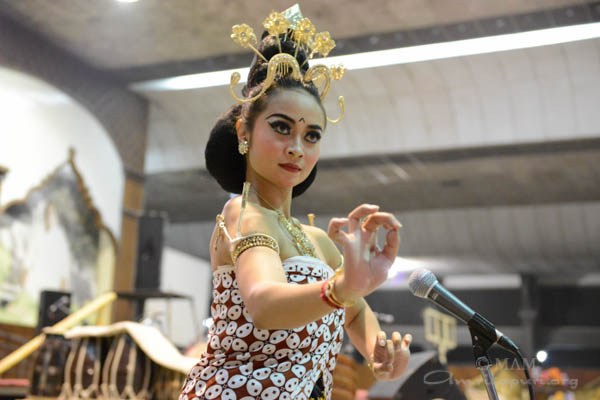 The dance from sacred Art Dharma Duta AGP lead by Indra Udayana, with the dancer Adi Suputra and Mila Rosinta of Bali, Indonesia.
The classical Balinese dance and special dances performed were Tari Kawing – about women empowerment; Tari Baris  – about the power of youth and hero in them; Tari Javuk – mask dance about humanism and leadership; and Tari Sthri Sakthi – a special dance created for Amma about Goddesses Saraswathi, Lakshmi and Parvathi.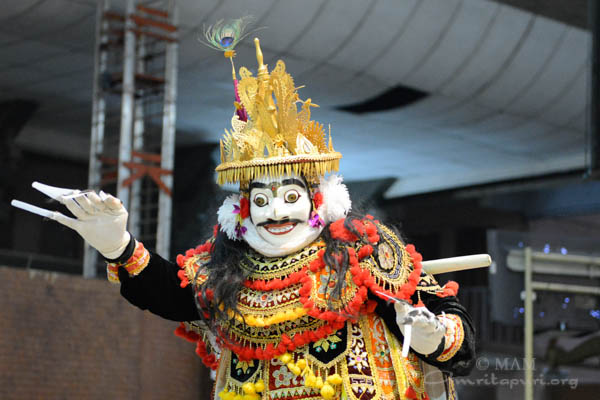 "Usually these classical dances are performed only in temples. But we present this here because Amritapuri is a temple" said Udayana. While presenting the dance Udayana requested Amma to come to Bali when she visits Singapore. "If She comes there (Bali) in the morning, she can go back in the evening. If Amma dosent like that she can stay there for a day and give darshan. If Amma dosnet want to do that she can stay for two days. If Amma is not happy with it she can stay there for a week. But Amma, Pls come to Bali", Udayana requested on the mike.
Amma accepted that sweet prayer noding her head saying 'yes' while she is giving darshan.