4-7 Dec 2013, Philippines
The world community was shocked when Typhoon Yolanda hit the Philippines on November 8th, 2013. With a speed of up to 370 km/h the tropical cyclone destroyed nearly 80 to 90% of the houses in many areas of the country. The deadliest Typhoon in Philippine history took the lives of more than 6,000 people and affected a total of eleven million people, leaving countless without home and shelter.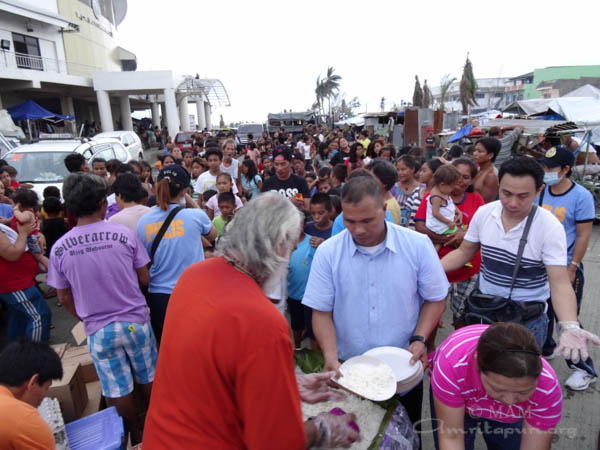 When Amma heard about the tragedy she announced one million USD relief– and rehabilitation package to provide relief and long-term support to the victims of the disaster.
Amma sent Swami Ramakrishnananda Puri to visit the affected areas in order to assess the situation on the ground. On his four day trip Swami was accompanied by devotees from Japan and Singapore, and joined by Senator Jamby Madregal in Manila.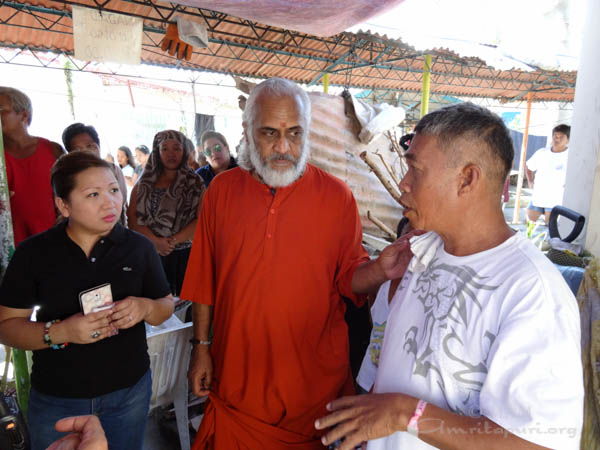 After arriving in Manila, the team took a military aircraft to Tacloban City in the province Leyte. They visited a local indoor stadium, which provided shelter to 3000 people. Along with Swamiji and Senator Jambi, the volunteers distributed cooked food to the people, who had lost everything in the cyclone. It was the first time after almost a month that the victims received cooked food, which gave them back a smile on their face.
In another relief camp Swamiji met Mr. Petilla, Governor of Levte Province to discuss the ongoing rehabilitation operations. He also took part in the main relief operation meetings at the residence of Congressman Mr. Martin Romualdez, and joined one of the relief operations officers in a helicopter ride to get an areal view of the situation.
Talking to the people of Tacloban, Swamiji heard many sad, and some miraculous stories – like that of the Mayor, Mr. Romualdez. He was inside his house when the Typhoon hit. As the water level rose he moved to the top of a table, then slowly climbed on to the roof of the building. Facing winds with the speed of 250 km/h he made a hole in another part of the roof from which he could descend down. At the same time his wife and two children were trapped inside a car. Once they escaped, they had to hold on to a pole for almost two hours, in order to survive the disaster.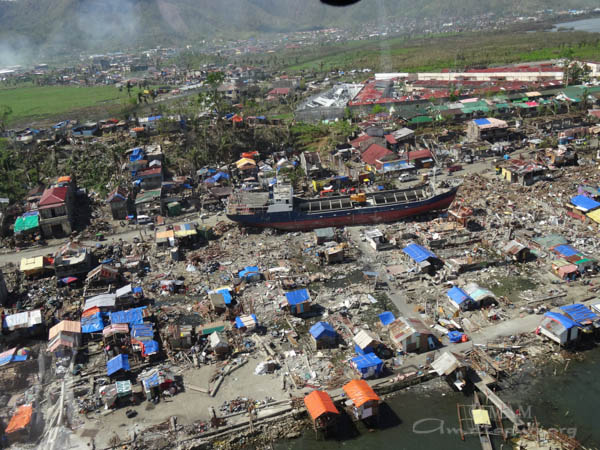 As the team left the Philippines on December 7th, they felt very moved and saddened by the many human tragedies that they witnessed during their visit. Yet they were confident that Amma's arms of compassion will be able to uplift and create a huge transformation in the lives of those affected.
Swami is now in contact with the local authorities to discuss the next steps of Embracing The World's relief operations in the area.