Amrita University launched a pioneering experiential learning programme  – 'Amrita Live-in-Labs' – that encourages the youth to live and experience the problems in the country's villages.
The scheme envisages students of Amrita as well as international students from some of the best universities of the world to live in Indian villages for six months to understand the rural population's problems in areas that include health, hygiene, energy, water, waste and environment. It also aims to define projects that seek to address the problems, devise solutions, implement, test and eventually demonstrate innovative solutions.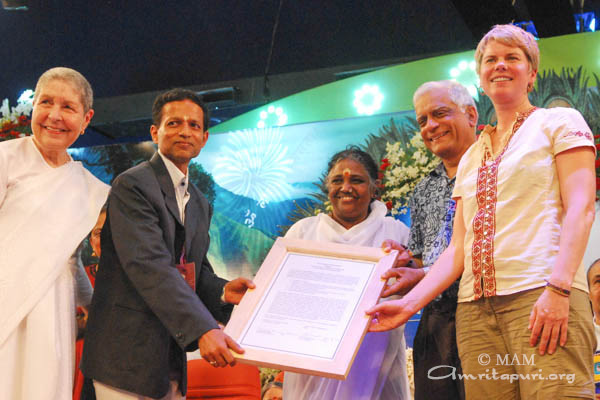 The idea behind the Amrita Live-in-Labs came from the address Amma gave at the 150th birthday celebrations of Swami Vivekananda at Delhi in Jan 2013. In her inaugural address Amma had suggested a way to ensure that at least one child from every family served in rural areas for one year after their graduation. She also recommended government funds for such a programme, saying the initiative would help awaken compassion in the youth besides uplift the poor and ensure a holistic growth of the nation.
As part of the Amrita Live-in-Labs programme, Amrita University signed a memorandum of understanding (MoU) with University of California (UC), San Diego, to enhance research and student exchanges. The signatories included UC Executive Vice Chancellor Dr Suresh Subramani and Amrita University Vice Chancellor Dr P Venkat Rangan.
Others present at the function included Michelle L. Hermas, Director, International Affairs UC; Dr. Maneesha V. Ramesh, Director, Amrita Center for International Programs, its Co-Director Dr. Krishnashree Achuthan, Mr. P. Manoj, Program Manager, Amrita Center for International Programs.
The MoU will also facilitate exchanges of faculty, undergraduate students, graduate students and postdoctoral scholars, joint research projects and publications, virtual labs, exchanges of publications, materials, and information; and special short-term programs.
Amrita Live-in-Labs was inaugurated during Amritavarsham60, Amma's 60th birthday celebrations.