November 1-2, Mannheim, Germany – Europe Yatra 2013
Upon arriving at the Maimarkt Halle from Holland, Amma spent her 'day off' by serving a Prasad dinner to all the local devotees and tour staff that had spent the day hard at work preparing the hall for Amma's program. After personally distributing food to everyone, Amma shared jokes, sang bhajans and gave satsang as well.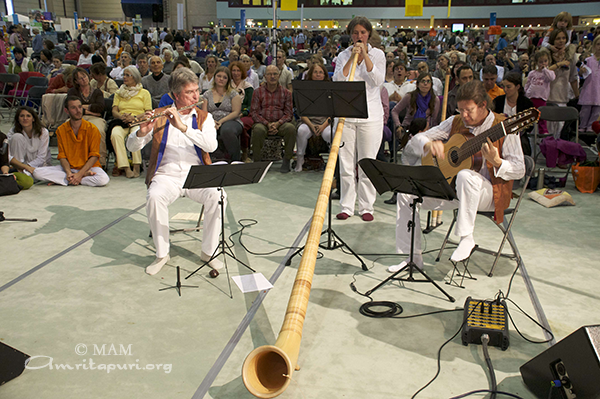 The first day of programs fell on 'All Saint's Day,' a big holiday celebrated throughout Europe, which drew huge crowds to see Amma. During the two days in Mannheim there was a continuous flow of people pouring into the hall.
Throughout the programs several local musicians performed both traditional and contemporary offerings, including a trio of flute, classical guitar and an alp horn; and a jazz vocalist.

The final program in Mannheim coincided with Diwali, 'the festival of lights.' To welcome Amma to the hall for the evening program, rows of devotees stood holding lamps and waving sparklers. When Amma arrived on the stage, she was able to look out and see the 8000 square meter hall completely full of people. Since it was a weekend and the final program in central Europe before Amma heads down the to the Mediterranean coast, people came from all over the region to take part. When Amma finally left the stage close to 10am the following morning, she and the tour group continued on to the next stop of the tour, 1000km away in Toulon France.
– Shubam