Amma in Holland
Oct 28-30, Houten, Holland – Europe Yatra 2013
The Expo Houten, in the Netherlands, became the seventh stop of Amma's 26th European Tour. As Amma arrived at the hall on the evening before the program was to begin, rows and rows of Dutch devotees waited at the entrance to welcome her. After the hectic Berlin program, everyone expected Amma to immediately get some rest, but instead she went straight to the dining hall to sit with the devotes and serve them food.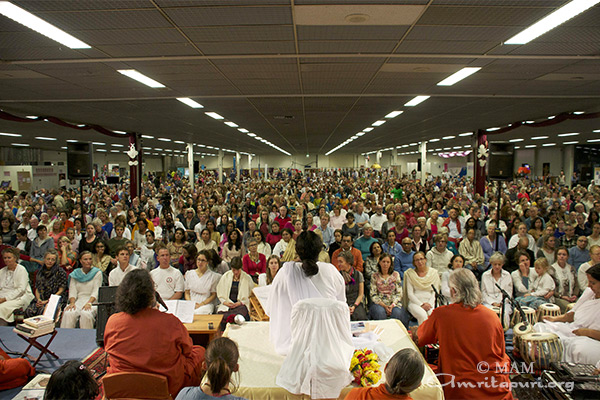 After the serving followed a beautiful satsang by Amma, where she reminded her children that spirituality is like a full time job. She said, "We need awareness in every thought, word and action, continually introspecting to make sure we are on the right path." After this, everyone joined in unison when Amma began singing the bhajan Mrityunjayaya Namah Om.
On the first day of Amma's program, Holland was struck by the largest windstorm in 7 years, with powerful gusts of up to 100 kph, resulting in severe reductions to public transportation services. Despite such conditions, the hall was as full as ever and Amma's darshan continued until after 1:30 am the following morning.
The darshans on all three days went for long hours, but seeing the little ones dancing to the bhajan Sundari Jagan Mohini at the end of darshan one day, Amma herself stood up and joined them. Soon, the entire hall was filled with mirth, swaying to the melodic tune and following Amma's graceful steps.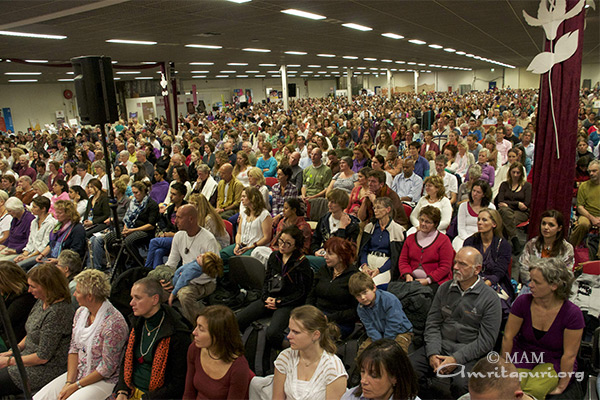 In her talks, Amma said, "One who has love for God will surely have compassion for those who suffer. Devotion and selfless service are not two but one; they are two faces of the same coin." One could truly see the spirit of Amma's teachings being put into practice by the combined team of Dutch and Belgian volunteers, who lovingly coordinated all aspects of the massive program.
Devi Bhava was so crowded that all the partitions at the back of the hall had to be removed and the hall was completely full from wall to wall. The following morning the program ended after 8 am and Amma and the tour group proceeded to the Mannheim, Germany for the next stop on the tour.
– Shubam