21-23 Oct, London – Europe Yatra 2013
Amma was accorded a grand traditional welcome on Her arrival in the famous Alexandra Palace. People from all over the United Kingdom had gathered to welcome Amma for the twenty-sixth time.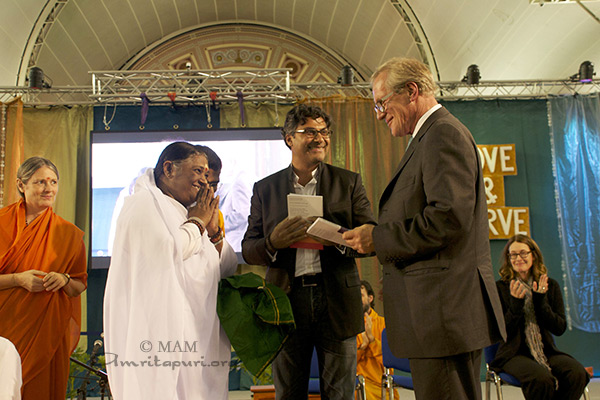 Lord Andrew Stone, Baron Stone of Blackheath, and member of the House of Lords, welcomed Amma to the UK and said in his address, "It is a great honour to be here welcoming Amma to London – she is one of the world's most loved and well-respected humanitarian leaders, whose spirituality emanates through her heart. I am struck by how Amma integrates her spiritual message and her love with real action on the ground. She is truly a living example of unconditional love, and proof of its power when channelled to serve those in need."
Others who welcomed Amma were the famous screenwriter of the Bafta Award winning documentary, "Senna", Mr. Manish Pandey, and Ms. Taylor Thompson, philanthropist and member of the Thompson Reuters Board. Mr. Pandey performed the European release of the book "The Colour of the Rainbow", authored by Swami Amritaswarupananda, and Lord Stone received the first copy. The book focuses on the compassionate approach to leadership, as exemplified in Amma's teachings.
Amma's visit to London was also covered by the One Show, a daily television programme broadcast on the BBC, attracting on average an audience of 5 million viewers. After the interview, "Pudsey Bear", the mascot of BBC's 'Children in Need' charity, came for Amma's hug, to a thundering applause from the audience.
Amma's darshans went on for long hours throughout the three-day programme, as people kept streaming into the venue all the time. The cultural programs of music and dance were a beautiful blend of East and West. As Amma got up after each darshan, it was such a joy to see the devotees gather all the way along the long corridor to the exit, and Amma playfully interacting with all of them.
One of the days, as Amma walked out the hall, a devotee said to her, "Amma, sleep well." Amma patted her cheek and said, "Amma will sleep when her children have awakened." Let us reflect on the profound meaning of Amma's words, and on the blessing of being able to live in the same time as her, in her living presence…
– Shubam