Oct 17-19 – Paris, France — Europe Yatra 2013
Paris has always been one of the most crowded of Amma's programs in Europe and keeps growing with every year. The venue 'Hall Saint-Martin' at Cergy Pontoise remained full throughout the three days this year as well; Parisians were ready to wait for hours and hours for their turn to meet Amma.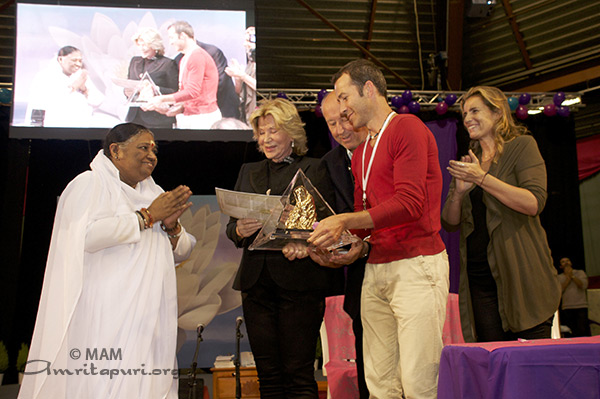 On the evening of the second day, Amma was awarded the 'Chromy Award 2013' by Anna Chromy, famous painter and sculptor, to the thundering applause of the huge audience. The award was in honor of Amma's worldwide humanitarian work and for being such an inspiring force of love and selfless service in the world. Ms. Chromy said in her award giving speech: "This award is a symbol of consciousness, harmony and love. We see all this in Amma, who shares it with others as well. I'm very happy and touched to give this award to Amma tonight. It is so impressive that Amma not only talks but also translates her message into action. So many people have been inspired by Her. In this way, many small streams create a powerful river, which helps to change the world for the better. In India alone, Amma is helping millions upon millions of people through Her organization 'Embracing the World'."
Previous laureates of this award include: Prince Albert of Monaco, Philippe Pozzo de Borgo, Alain Bougrain Dubourg, and Tony Juniper.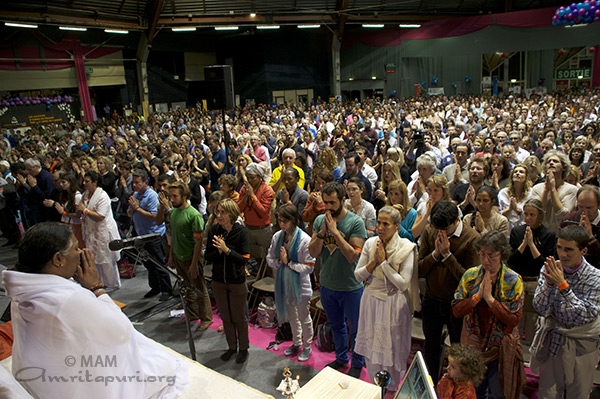 Amma's rendition of 'Nirmala Snehame' (one of Amma's Malayalam bhajans) in French brought tears into the eyes of many in the crowd. Amma said in one of Her talks, "There are many types of powers in this world—intellectual power, military power, financial power, political power and power of written word… But the greatest power in the entire universe is the power of love." This was so visible during Amma's Paris program. One could see Amma's love filling all hearts. One could also see the love in the hearts of hundreds of volunteers who were ready to serve without thinking of their own comforts or rest, simply desiring to be in the service of Love.
Having started on Saturday evening, the last day's darshan continued until 11.45am the next day. As Amma walked towards the camper to drive to the next destination, hundreds of devotees stood on both sides, full of yearning for one last glance from Amma. The next stop is London and the tour continues without a break. If there is a word missing from Amma's dictionary — it is the word 'rest'. Amma put it beautifully when she was asked as if she would not have a vacation after a program like Paris. Her answer was, "Serving my children is my vacation."
– Shubam