Oct 12-15 – Munich, Germany — Europe Yatra 2013
Zenith Halle, the venue of Amma's program in Munich, was brimming with joy as Amma entered the hall for darshan on the first morning. As she walked to the stage through arches made of leaves held by devotees dressed in traditional Bavarian attire, the choir sang Happy Birthday, commemorating Amma's 60th Birthday. The whole crowd sang along.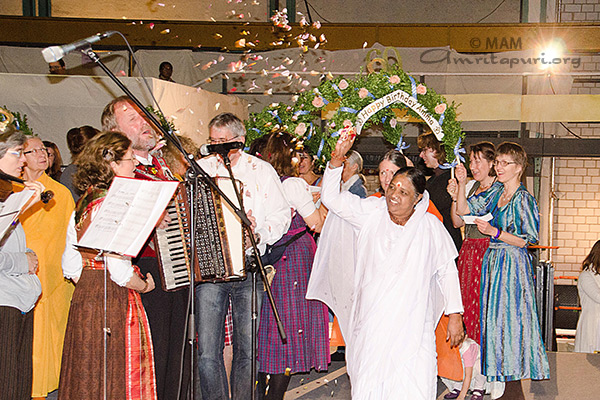 Amma started Her talk on the first day saying, "When Amma sees all her children sitting together, it feels as though Amma is standing in a large garden, where flowers of different colors and fragrances together spread a unique perfume." It was so true as the four-day program in the Bavarian capital was truly a confluence of devotees from not only Germany but also Austria, Croatia, Hungary, Poland and Slovenia. As Amma gave her talks, the screens showed the simultaneous translations in different languages for the benefit of these devotees. Most of them extended their heartfelt invitation to Amma to visit their country.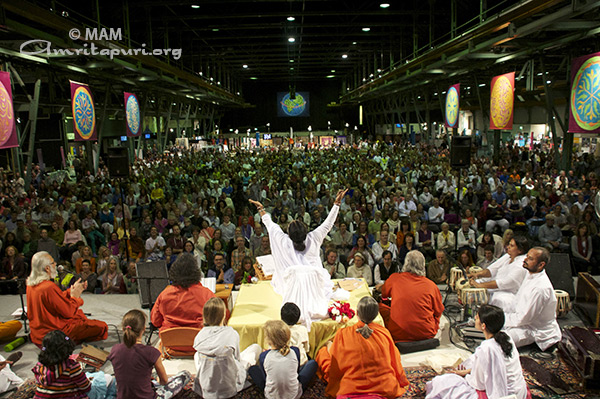 The second day program also coincided with Vijayadasami, the day when Navaratri (the nine day worship of the Divine Mother) concludes with the Saraswathi puja (worship to the Goddess of Knowledge) when children are initiated into letters (Vidyarambham). For those who have already begun to acquire knowledge, it is a reminder that only one who can maintain the attitude of a beginner will be able to learn. The devotees were overjoyed as Amma led the initiation into letters on the morning of the second day, with the chanting of "Om Hari Sri Ganapataye Namah" and the Sarasawati mantra.
Like every year, the Munich program was studded with vocal and instrumental performances of Western classical music by eminent artists. The local satsang groups from the different countries also performed for Amma. On the final day, as Amma got up after darshan in the early morning hours, the hall was still full of people. They joined in the shout that was led by Amma, "Mata Rani Ki Jai" with their hearts filled with gratitude.
-Shubam