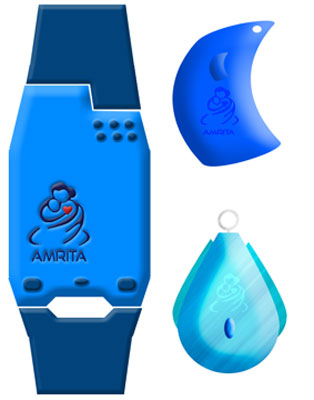 How can anyone live in fear? Most women are victimized for no fault of their own unable to travel and perform mundane activities. In discussions with Amrita University's Centre for Cyber Security, Sri Mata Amritanandamayi Devi (Amma), stressed the need for developing technology to protect and make Indian women feel more safe.
According to Dr. Krishnashree Achuthan, the director of Amrita University's Centre for Cyber Security Systems & Networks, "Amma told us that we should try to develop a device that women can wear secretly through which they can alert the police and family members if they become in danger. With Amma's directive in mind, we came designed the Amrita Personal Safety System (APSS)."
The Amrita Personal safety system (APSS) device is wearable devices that will never make a women feel all alone anywhere anymore! This device will empower women to trigger communication with family and police when in distress. The device will remain inconspicuous to the offender and yet easily triggerable by the victim with multiple options to ensure stealthy and secure communication. With the ability to record conversations, and communicate immediately by the press of a button or using sms and voice calls to multiple destinations, this device also offers automated information on nearest police station, hospitals, fire stations to the victim to get immediate help. The device will also have ability to video tape events in the near future. The device is designed to function even in rural areas where the speed of the communication is very minimal. Also this device combines many location aware technologies intelligently, to be able to work in indoor and outdoor environments with minimal power consumption.
This customizable device developed by Amrita's Centre for Cyber Security provides flexibility in design for wearability, and integrates over 15 features pertaining to safety and security of women and other potential victims.
This device can also be used as a safety device for mentally challenged citizens and children with many functionalities to quickly identify their whereabouts amongst other functions.
The APSS  will be dedicated to society during Amritavarsham60 —The 60th Birthday Celebrations of Amma, Sri Mata Amritanandamayi Devi.