July 3-5, MA Center Chicago – 2013 America Yatra
After wrapping up the programs in Canada, Amma and the tour group traveled back to the United States and held 3 days of public programs at the MA Center Chicago. This was Amma's second visit to the center located just outside of Chicago in the town of Elburn, Illinois.
On the way back from Toronto, Amma took the time to stop with the tour group on the banks of Lake Michigan amongst huge sand dunes. All sat under a small shelter at the edge of the sandy shoreline to stay out of a steady rain. Everyone shared a BBQ picnic lunch with Amma enjoyed a satsang and bhajans. As the sun began to set, the clouds parted and Amma led everyone down the the water's edge. She led everyone in singing Shristiyum Niye and Devi Jaganmata while she raised her arms skyward and gazed out upon the waters of the Great Lake. Before leaving, Amma walked down the beach alone and spent some time feeding flock of seagulls. It was a rare and beautiful scene to see Amma getting to spend a few moments alone communing with nature.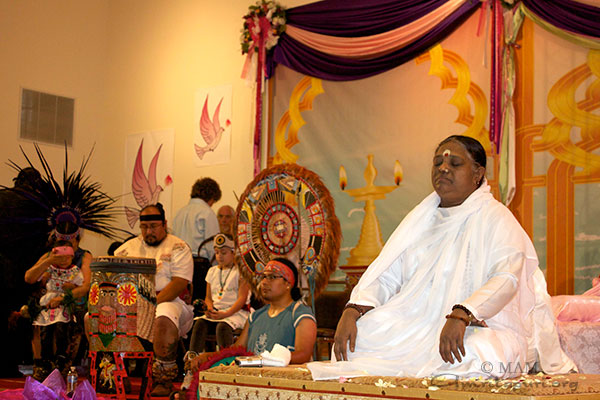 Upon arrival to the program hall during on the first day, Amma was greeted by the Creekside Singers from the Pineridge Reservation in South Dakota. The members of the Oglala Lakota Tribe danced and played a ceremonial drum to welcome Amma.
Later that day Amma was felicitated by the Mayor of Elburn, David Anderson, who was also on hand last year for the Center's inauguration.
Amma spent the next three days giving darshan, singing bhajans and giving satsang to the massive crowds that showed up over the 4th of July Independence Day holiday weekend. When the final program ended late in the morning Amma and the tour group travelled on to the next stop on the tour in Washington D.C.
– Tulasi