June 22-23, Dallas, Texas
After finishing five days of programs in Albuquerque, New Mexico, Amma continued to the next programs in Dallas, Texas.
Along the way Amma stopped with the tour group at sunset besides a lake.  Everyone sat with Amma just besides a large prairie dog colony.  As the sun began to set and the prairie dogs all returned to their burrows for the night, Amma began to sing bhajans with everyone.  On the horizon a huge nearly full moon rose over the lake just in front of Amma.  Amma sang Kodanukotti, Ananthamayi Padarunnen and Mritunjaya with her gaze towards the moon and continuously raising her arms skywards.  Everyone there felt as if they were eavesdropping on a intimate exchange between Amma and the moon.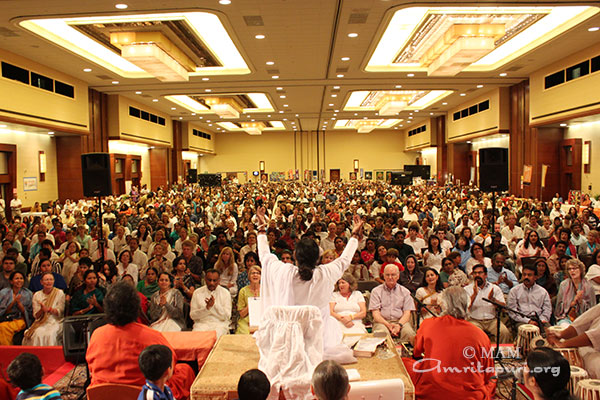 Over the next two days Amma held two public programs in at the Hyatt Regency inside the DFW International airport.  Being a weekend, the hall was filled to capacity on both days by people coming to enjoy Amma's satsang, bhajans and to receive her darshan.
The final night's program stretched into the early next morning.  As soon as Amma's darshan finished, Amma and the group travelled on to Cedar Rapids, Iowa.
– Tulasi