28 Mar 2012, Kochi – Bharata Yatra
Amma celebrated Holi with her children in Kochi.
She distributed prasad, had satsang, jokes, bhajans and played Holi to the delight of all the devotees assembled there.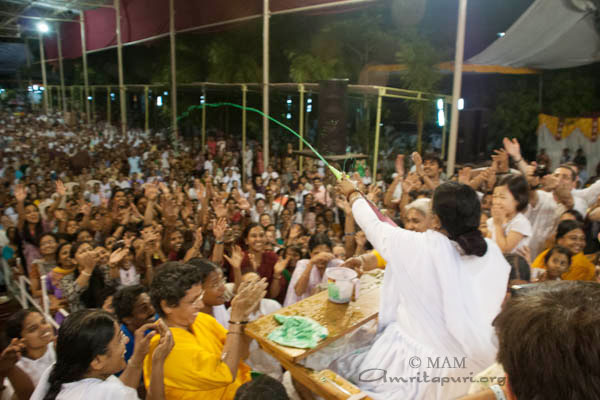 Amma's second leg of Bharata Yatra kicked off with the Ernakulam program, following on the heels of Amma's visits to Reunion Island, Mauritius and Singapore.
A unique feature of the Ernakulam program is that it is held near to Amma's AIMS Hospital and Medical College, and is actually held on the campus of Amrita University's School of Arts and Sciences. Therefore, there are a great number of students, devotees and sevaites in the area, and all come together for the programs. There is a pervasive and beautiful feeling of seva and love throughout.
The day Amma arrived, some of the tour group members prepared dinner and brought it to the roof of Amma's school, expecting Amma to come up to the roof and serve the tour group. However the school grounds were filled to overflowing with devotees overcome with devotional fervor. By turns they were chanting archanas and singing bhajans with great enthusiasm.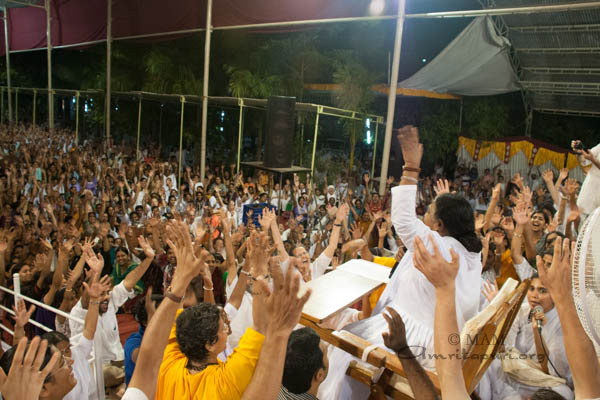 When Amma emerged from her room, she began to make her way to the roof but soon she turned around made her way down, directly into throng of devotees sanding below. She walked through the crowd and onto the stage, which was still under construction getting ready for the following day's program.
The tour group scrambled to catch up with Amma, carrying all the many pots of food from the roof of the school down the four flights to the ground and then onto the stage. Within seconds, Amma was serving food to the gathered throngs.
Many wondered that if they were witnessing a quiet miracle. After all, the devotees had been expected only for the following day, and the food had been prepared only for the tour group. However, even though the darshan hall was filled to overflowing, and Amma's serving seemed to go on forever as plate after plate passed lovingly through her hands, each and every person got a full plate of prasad – kanji, curry, lime pickle and a fresh chapatti. After distributing Prasad and praying together with her children, Amma proceeded to talk casually with her children, creating an intimate family atmosphere.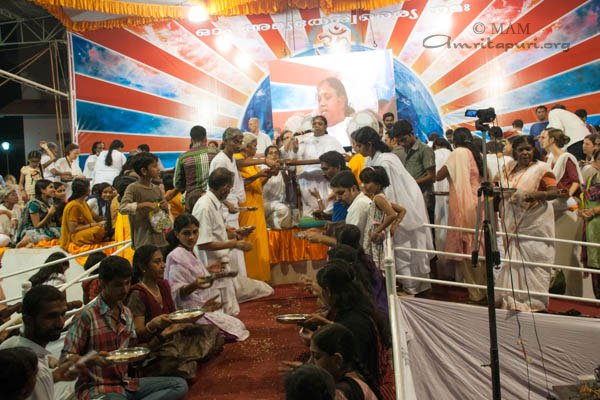 She also passed a microphone into the crowd and asked her children to share jokes and stories with a spiritual message. Then Amma began to sing, wrapping with 'Aye He Holi' and joyfully celebrating Holi with her children, playfully spraying colored water onto her children, and… getting plenty on herself in the process.
-Kannadi