On Amma's 59th birthday celebrations in September 2012, the InDeed Campaign for Nature was launched. This is an online campaign to inspire people to pledge to take any one of six steps to help restore nature's harmony. Many students made pledges to conserve water, grow organic vegetables, reduce their carbon footprint and more.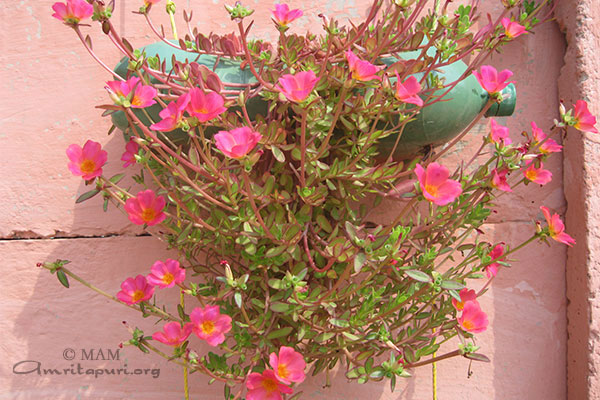 In order to keep their commitments, a group of Amrita University students created a unique "hanging bottle garden" – a hanging flower garden using recycled bottles as receptacles for the flowers. The bottle garden is a 36-meter stretch of Jasmine, Lantana, Browallia, Lily, Tabernaemontana, Duranta, many types of Portulaca grandiflora (table rose), Ixora Miniature, and Springaria – all flourishing in recycled bottles hanging neatly in 4 rows and 48 columns long the walls near the mess hall in Amrita University's Amritapuri campus. "We are very happy that we could do something which Amma likes and want us to do along with our studies." says Trayesh, a first year student of enginering.
This beautiful garden is the result of the tireless efforts of students who served an hour every week for a moth in December 2012.
"We are proud of ourselves for doing something to love and preserve nature. I am really satisfied and happy seeing the bottle garden in the campus now" says Keerthi, another first year student.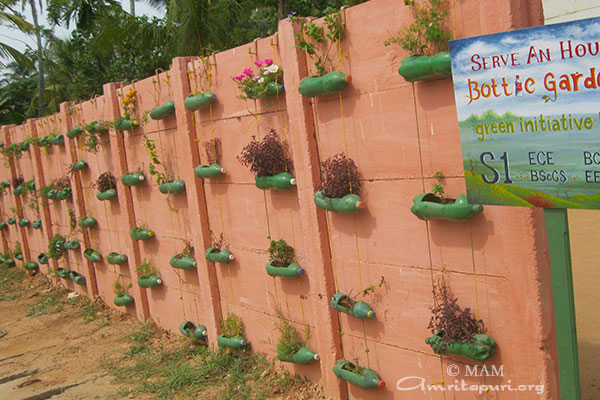 Serve an Hour
The Amritapuri campus offers a 6-month 'Serve an Hour' course focusing on developing an attitude of selfless service among Amrita students. The course emphasizes student learning through hands-on service projects. The course also offers opportunities for students to collaborate in creative learning opportunities with students at government schools in rural areas through school visits and educational outreach activities.
Last semester, after a brainstorming session, one team of students decided to design and install a hanging flower garden on campus.
First, they collected the empty bottles from the recycling center. They now had to cut the bottles, drill holes, paint them, hang them in rows, and fill them with potting mixture in order to make them ready for planting. They worked with their faculty advisor and decided to pool in the efforts of all the students taking the Serve-an-Hour course. Making a list of supplies, developing a budget, deciding on the design for the flower garden, contacting the nursery for saplings and getting the saplings to campus – all this was part of the process but the team finally had everything together.
"We never thought that it would be one of the most wonderful experiences we would have at Amrita. It was nice to involve in some work which help to prevent pollution and preserve nature." said Aswathy Nair one of the student volunteers of this InDeed campaign.
– Das