Jan 7-8, Mumbai, Maharasthra – Bharata Yatra 2013
After the Pune programs, Amma travelled to her ashram in Nerul, Navi Mumbai. There she held two days of programs on the 7th and 8th of January.  A large crowd of devotees were on hand waiting to welcome Amma back to Mumbai.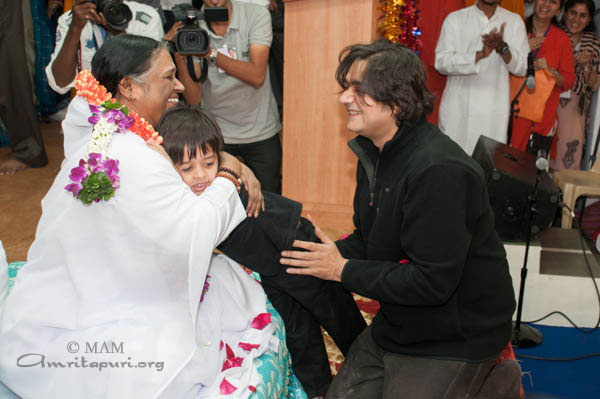 During the first evening program Amma was officially welcomed to the dais by Bollywood actor Chandrachur Singh, State Minister Ganesh Naik, former justice of Maharasthra high court, Radhakrishnan, amongst others.  With the help of the dignitaries on hand, Amma then distributed 100 pensions as part of the Amrita Nidhi program to local women in need. Then 100 scholarships as part of the Vidyamritam program to local children.
At the end of darshan on the last evening, Amma sang Tannana Tannane and another Kerala folk song. After the programs in Mumbai Amma continued on to Delhi for the next programs on the tour.