Amma addressing United Nations Alliance of Civilizations
29-30 Nov 2012, Shanghai, China
"When we engage others with respect, understanding and acceptance, then we will be able to communicate at the level of the heart," said Amma in her address at the United Nations Alliance of Civilizations' (UNAOC) Regional Consultations for Asia-South Pacific, being held in Shanghai.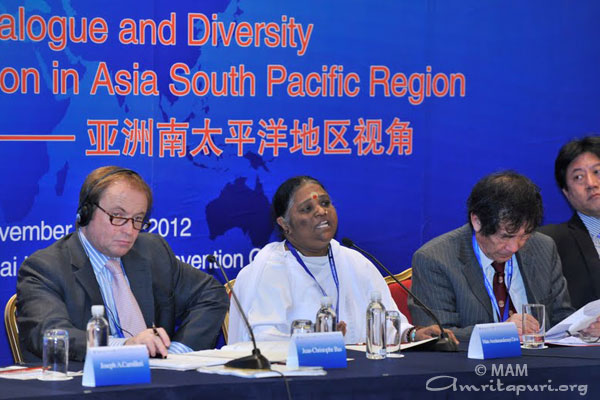 Amma, the only spiritual leader invited to the conference, gave her speech on the subject of "Coexistence and Engagement Between Cultures."
Amma explained how globalization has affected our coexistence both positively and negatively, emphasizing that "coexistence is possible only when culture and modernisation are in balance." She warned that "efforts at coexistence fail when we claim 'We are all one,' but we disrespect each other's ancient customs and traditions." Proceeding to offer solutions, as well, Amma spoke, "we have to acknowledge the fact that even though we are one in essence, externally, we are different," then she urged the assembly to respect diversity — "An awareness of the need for coexistence amidst diversity is the only way to alleviate the suffering of others."
Supporting her points with practical examples and suggestions based on decades of humanitarian work in culturally diverse regions, Amma invited everyone to contribute to the global conversation on coexistence by setting an example of respect and tolerance.
Amma also called for a balance of rights and respect. saying that "when we engage others with respect, understanding and acceptance, then we will be able to communicate at the level of the heart."
Amma brought her speech to a conclusion by focusing on the power of love. "For the past 40 years, I have been communicating with people of all languages, races, colours, castes and religions, from the very poorest to the rich and famous, through the language of Love. There are no barriers for love. I have full faith in the transformational power of Love to unite all hearts."
"Our focus today should neither be on dependence nor on non-dependence, but on interdependence. This is because the human race, the animal and plant kingdoms and the whole universe are all interdependent.
"Reverence and respect are rare qualities in today's world, leaving us with a society lacking in proper maturity. Education, acquisition of knowledge, science and technology may help us advance to unimaginable levels, but if the result is a mentally and emotionally immature generation with no sense of discrimination, it would be truly catastrophic."
"Respect the Earth, nature and all our fellow living beings. Realise that we truly need to acknowledge the differences between race, religion, colour and creed. When we approach others with respect that is firmly established in a deep understanding and acceptance of all our differences, then we will be able to communicate at the level of the heart" Amma concluded.
Amma was speaking in her native tongue Malayalam, and it was simultaneously translated into English.
The Shanghai event, titled "Harmony Through Diversity and Dialogue", is jointly organized by the UNAOC and the UN Association of China.
More than 150 delegates from throughout Asia and the South Pacific- representing governments, academia, corporations, NGOs and cultural organizations – are taking part in the two-day Shanghai Consultations. The Guest of Honor was Cui Tiankai, Vice Minister, Ministry of Foreign Affairs. Other dignitaries participating were Jean-Christophe Bas, Senior Advisor, Strategic Development and Partnerships UNAOC; Ambassador Chen Jian, President of the UN Association of China; Tu Guangshao, Vice Mayor of Shanghai Municipal Government; and Jorge Sampaio, UN High Representative for the Alliance of Civilizations and former President of Portugal.
This was Amma's first visit to China. She has addressed United Nations at it's International Celebrations for the 50th Anniversary in New York, the Global Peace Initiative of Women Religious and Spiritual Leaders at the UN in Geneva, the Summit of the Global Peace Initiative of Women in Jaipur, twice at the Parliament of World's Religions, and as well as at many other international platforms.