October 23-25, London, Europe Yatra 2012
From Paris Amma crossed the English Channel and continued on to London She held three days of programs in the historic Alexandra Palace.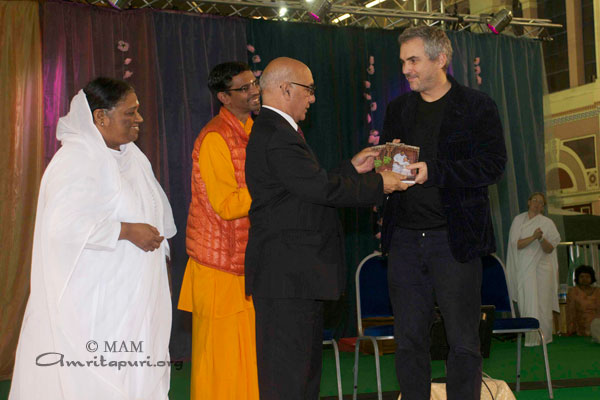 Amma was officially welcomed to the UK by Member of Parliament, Mr. Virendra Kumar Sharma. After garlanding Amma, Mr Sharma helped release 'In the Shelter of Her Arms' by Gretchen Kusuma McGregor.
Also present on the dais to welcome Amma was the renowned film director, screenwriter and producer, Alfonso Cuarón, best known for his films Children of Men, Y tu mamá también, and Harry Potter and the Prisoner of Azkaban. Mr Cuarón officially launched Embracing the World's new project, InDeed in the UK.
After the programs in the UK, Amma headed back to the european continent for the next stop of the tour in Holland.