M.A. Centre, Switzerland
The second retreat for children and teenagers took place on a weekend in march with beautiful sunny spring weather. The motto of the weekend was "Nature and humans in tune with each other". There were separate workshops for children and teenagers as well as some common happenings.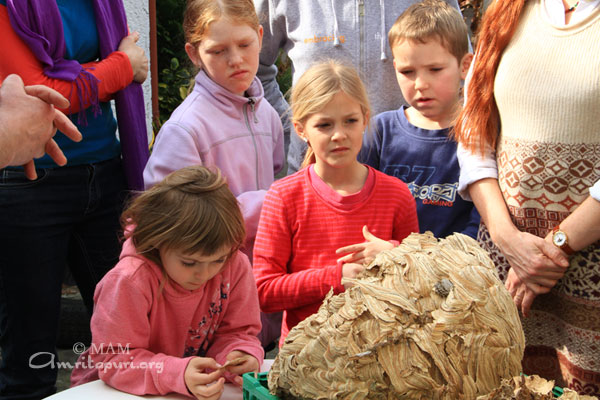 On Saturday morning both groups were working on "values". The teenagers read Amma's new year's message and openly discussed values like discipline, contemplation, forgiveness and non-violence. They then received a diary, which they decorated lovingly while chanting.
In the afternoon the participants could choose between "building of a hotel for bees" or learning the IAM-Meditation for children. All children who were at the required age of 10 or older and did not know this meditation opted for it. They worked with great enthusiasm and sincerity. The other group got instr
uction in building, sawing and drilling to build beautiful bee-hotels.
After bhajans and dinner everybody went to the local meadows, where two biologists of the
centre for nature gave a very informative guided tour on frog's migration. Frogs spawn at their native place and have to walk many miles in order to get there – this might result in the deaths of many frogs, if they have to cross roads. Everybody learned a lot about life and habits of frogs and toads and could even hold them in their hands!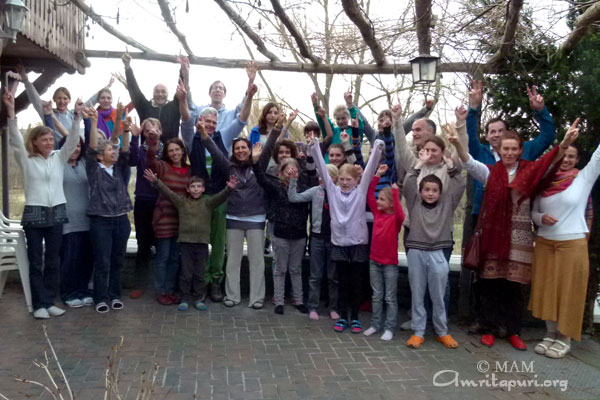 After the morning ritual and the IAM meditation the next morning the building of the bees' hotels continued. Then the children could play in nature and the teenagers could take part in a surprise walk in the forest.
The weekend was concluded with bhajan-singing and a puja after lunch. Everybody left enriched and happy after a fulfilling retreat.