24-25  Osaka, Japan – 2012 Japan – America Yatra
At Osaka, Amma was given a warm welcome at the airport and received her Japanese children in a loving embrace.
The  programs were held in the Umeda Sky Building in the heart of Osaka.  The hall was full with many first-timers waiting anxiously for Amma's arrival. This is Amma's second visit to Osaka. Osaka  is a hub of marine transportation and  has been a cultural and economic center of the nation since ancient times.
Beautiful heart-shaped red balloons welcomed people as they entered the darshan line and a huge heart adorned the backdrop of the program stage, reflecting the love of the Japanese people for Amma.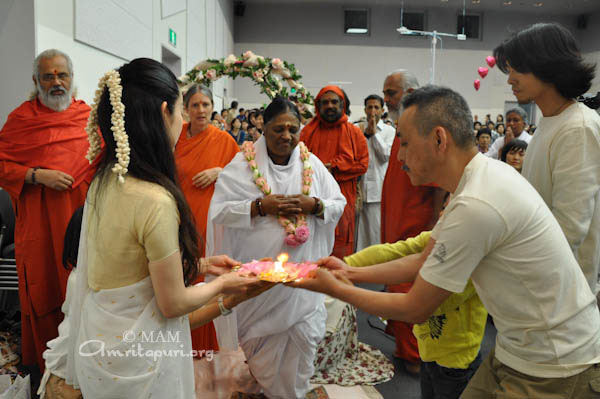 Several dignitaries were present to welcome and honor Amma. Amongst them were the Vice Consul B. Bhatamishra from the Indian Consulate, the  Director of the Osaka Ayurveda Research Institute, Dr. Inamura Hiroe Sharma, and the President of the Japan Natural Consumers' Cooperative, Matsuo Yumi. On Amma's arrival they officially welcomed Amma and addressed the gathering. The Vice Consul said that the amount of humanitarian work that Amma has achieved is immeasurable.
On the first evening Amma blessed the seeds of indigenous Japanese vegetables – Seed of Love – and distributed that to many local youth, and a book  "Ayurvedic Nutrition" was released on the occasion.
The kitchen crew who worked with so much enthusiasm during Amma's program came together to sing for Amma during Devi Bhava. Their drums were pots and pans and their cymbals were spoons and ladles. Wearing scarves and aprons, they joyfully sang,
"kitchen niwa umai mon ga ippai Arun yade.
Papadam, dosa, okonomiyaki …"
– meaning "There is lots of yummy food in the kitchen, like papadam, dosa and okonomiyaki. There is plenty of Amma's love in the kitchen, happy, fun and warm. Amma we love you! jay!"
After the programs in Osaka, the group and Amma drove the 600 km  through breathtaking scenery with views of lush greenery and mountains on all sides, finally arriving to Tokyo.
– Tulasi