18-19 April 2012, Sydney, Australia
Amma held two days of programs in the heart of Australia's biggest city.  Despite the persistent heavy rains during the two days in Sydney, large crowds still turned out and filled the hall to capacity at the Sydney Boys High School.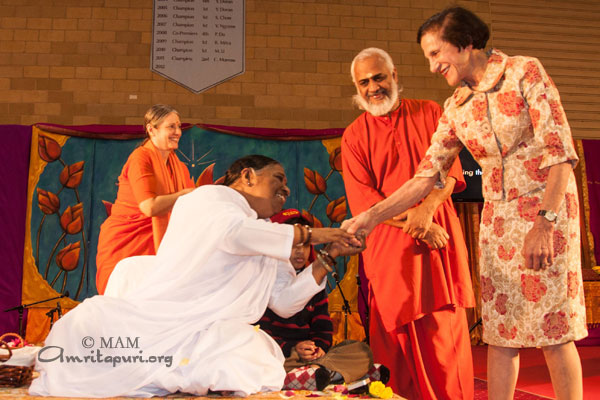 To kick off the first morning program Amma was officially welcomed to Sydney by the Governor of New South Wales Marie Roslyn Bashir AC.  On the occasion the Governor remarked, "Sri Mata Amma I would like to welcome you most warmly to Sydney, on behalf of all these splendid people gathered here today, and the wider community. In your journey across the earth bringing messages of peace, understanding, acceptance and greater tolerance amongst all people of this earth. We need people who are courageous enough to take those messages to everyone, because sadly too much conflict still exists across the world in many countries and even in good countries in certain homes. So thank you for you message of peace which I am sure will touch all those who pause to listen to you…"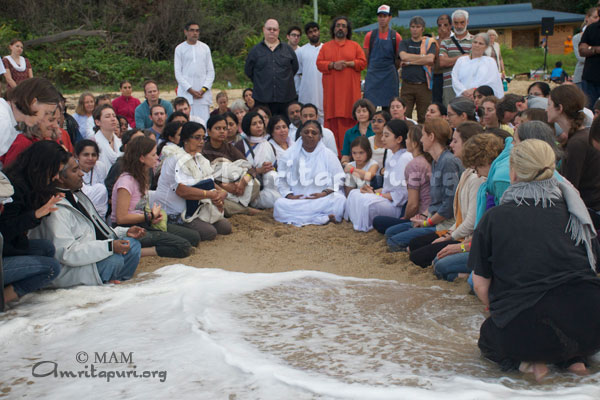 After the programs in Sydney Amma travelled almost 1000 km by road further up the coast to Brisbane for the next program.  Along the way Amma stopped and spent the afternoon with the tour group at the beach.
– Kannadi