8 Mar 2012, Amritapuri
Thursday night as darshan ended, the Holi celebration began at Amritapuri. Just before the end of darshan a devotee presented Amma with a bowl of colored powder and a bucket of water and a 'pichkari' (elongated water pistol). Amma mixed the colors into the bucket of water and then she filled the pichkari with the colored water. She slowly pointed the pichkari at many people on stage before she started spraying colors on everybody on the stage. She put colored powder on those sitting just next to the chair and squirted water on all sides.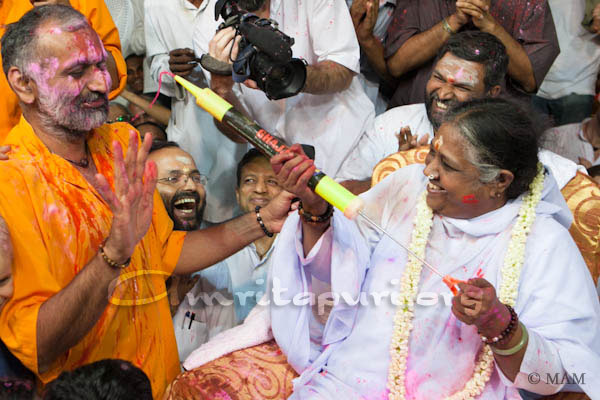 While she was doing this she started singing "Ayi He Holi" – meaning, Holi has come, the water pistols are filled up with coloured water…
Some devotees stood up and started dancing in the hall. The entire atmosphere was surcharged with joy as Amma sprayed more colors and threw the dry powder on everyone. A small amount of color was then carefully applied on Amma's face by a young devotee. Amma then sang one more song "Vraj Me Aisa" meaning – At Vraj (Vrindavan) there was such an excitement as Krishna on his way to Ras (Raasa Leela dance with the Gopis).. and the whole hall erupted with joy. During that bhajan Amma repeating one particular line again and again.. ' Kanha ek, gopi anek,' meaning, Krishna is one, and the Gopis are many, pointing to all around her as she sang…
Kanha ek gopi anek
kis ke sang vo rachayenge ras?…
Shyam ke ye leela ko dekh
Vo hai Kade har Gopi ke pas.
While singing and dancing sitting on her seat, Amma continued throwing colored powder around and spraying water. When she finally left the stage, her sari was fully covered in pink colors. And just before going up the steps to her room, one final time she turned back and sprayed colored water on those standing below her after a boy loaned her his small water pistol.
After Amma returned to her room there was plenty of colored powder and water which had not yet been used, so the joyous atmosphere continued as the devotees began their own Holi play and started smearing powder on each other, until there was no powder left to smear and everyone went to back to their rooms covered in colors.
– Kannadi