7 – 9 Oct, Milano, Italy — 2011 Europe Yatra
Amma began Her 2011 European Yatra in Milano, Italy.
She was traditionally welcomed in Italian fasion, by heart warming cheers and applause from a huge crowd, on each day of the program, who had queued for hours  to receive Her blessings. Mr S.K Verma of the Consulate General of India and Mr Claudio Zucchi an authority from the Milano Sesto District Mayors office were present to officially mark Amma's 25th consecutive visit to Italy.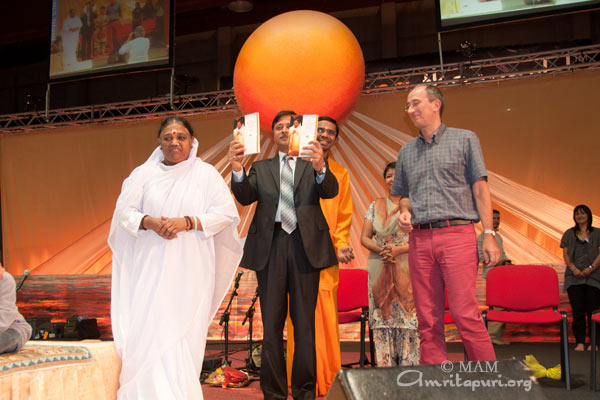 On the occasion Mr S.K Verma addressed the gathering saying that  "She represent the almighty, she represent the world."
Along with three days of programs of Meditation, Bhajans, Darshan and Satsang, Amma also conducted the Atma Puja in which thousands participated.
Two of the most popular television channels from Italy RAI 2 AND RAI 3 showed up to film a short documentary film on Amma, highlighting the topic of Womanhood and women's role in today's society.  Their aim was to demonstrate that Amma is the right kind of role model for the women of the world today.
A well known Priest of the Saint Francis Order, Father Antonio returned for darshan 3 days in a row after being completely overwhelmed by Amma's love and compassion saying that she is like a doorway to heaven.
– Kannadi