19 September – 1st October, 2011 – South America
During the past 2 weeks Swami Ramakrishnananda Puri travelled across South America visiting Peru, Brazil and Chile.

Lima, Peru
Swami conducted 3 days of programs throughout the capital city of Peru. While in Lima Swami met with several government officials, including: Hilaria Supa, the Peruvian representative of the Andean Parliament, the Vice Minister of Intercultural Affairs, Mr Clemente Otta and Manpreet Vohra the Ambassador of India to Peru, who all expressed a keen interest in bringing Amma back to South America.
Additionally there an IAM class was held.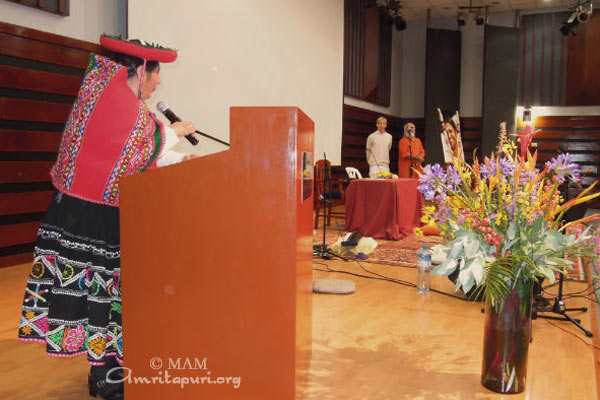 Sao Paolo, Brazil
Two days of programs were held at the beautiful Espaço Singular hall. From there Swami travelled up the coast to Rio de Janeiro at had a program at the Forte do Leme military base at the end of Copacabana beach. At Templo Amrita in the town of Araruama and conducted a ceremony for world peace and prosperity. The next day on September 27th, Swami returned to Rio to celebrate Amma's birthday with a lively bhajans session with all the Brazilian devotees.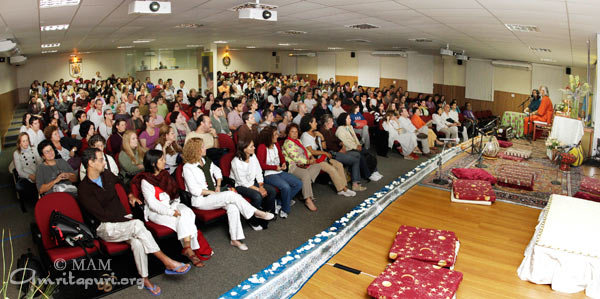 Chile
From the Atlantic coast of the continent Swami then held his next program in Viña del Mar, Chile overlooking the Pacific Ocean on the campus of the Universidad del Mar. The program hall was packed to capacity by an enthusiastic crowd. Swami's final program of the tour was held at the foot of the majestic Andes mountains in Santiago, Chile. There was no need for Swami to remind the crowd that this was the place, in 2007, where Amma first set foot on South American soil, as many in attendance had been there to have Amma's darshan five years earlier. Swami ended his last satsang by voicing the desire of all those who had attended his programs during the trip and praying that Amma may soon return to shower her blessings on South America.