1-2 April 2011, Mauritius
An auspicious rainbow was sighted upon Amma's arrival in Mauritius in the only Brahamastanam Temple outside of India.
Amma was welcomed to the island by several dignitaries, including the President of Mauritius, Anerud Jugnauth, Mr. Anil Bachoo, Minister for Public Infrastructure and Shipping, Mr. Madhusudan Ganapthy, the Indian High Commissioner, and Mr. Alan Ganoo, Member of Parliament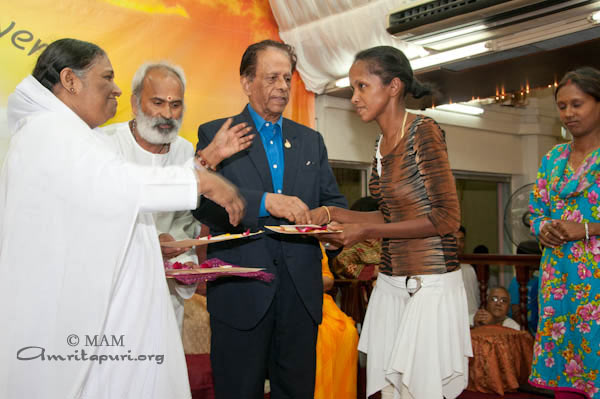 On the occasion, The President said "She is an envoy of peace and an ambassador of love to the whole world. The love that Amma radiates, is the key to her phenomenal success that she has achieved in such a short period of time. Due to this love and the purity of her purpose, she has been able to inspire so many thousands to take up the path of selfless service. I would like again to thank Amma for visiting Mauritius, and keeping this beautiful country in her embrace."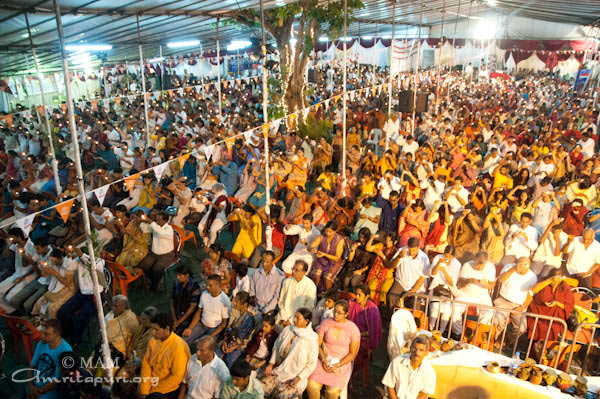 During her visit Amma extended the ashram's charitable activities by handing out pensions to destitute women, and launching the 'Grow In' program, where youngsters took a vow to grow their own vegetables.
Swami Ramakrishnananda's book, Timeless Path was released in French with the help of the President.
During the two days of programs, all in attendance were able to enjoy Amma's satsangs, bhajans and darshan.