22-24 March 2011, Singapore
Twenty five years ago when Amma first went beyond the shores of India to share her love and compassion with the rest of the world, the first programs were held in Singapore.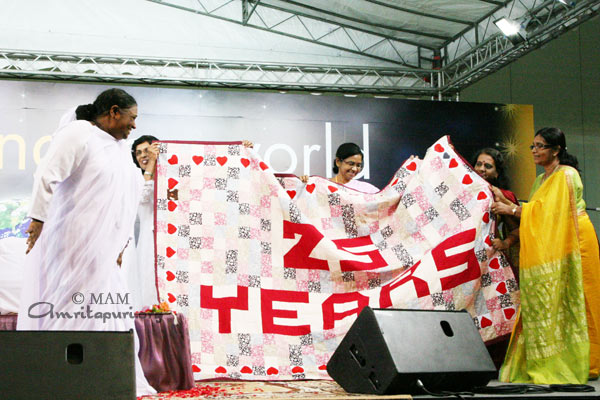 Amma was officially welcomed to Singapore by Mr Lim Chee Seng, Treasurer of Loyang Tua Pek Kong (Taoist Temple) and Howard Shaw, Executive Director of the Singapore Environment Council.
Inspired by Amma's environmental drive, representatives of different countries that Amma has visited over her 25 years of touring, came to collect seeds to be grown in 49 countries.
The Amriteswari Society of Singapore launched the Amrita Bursary Award in 2007, and this year scholarships were handed out to 50 less fortunate students. Henry Lim, legal adviser and trustee of Loyang Tua Pek Kong (Taoist Temple) joined Amma in distributing the scholarships..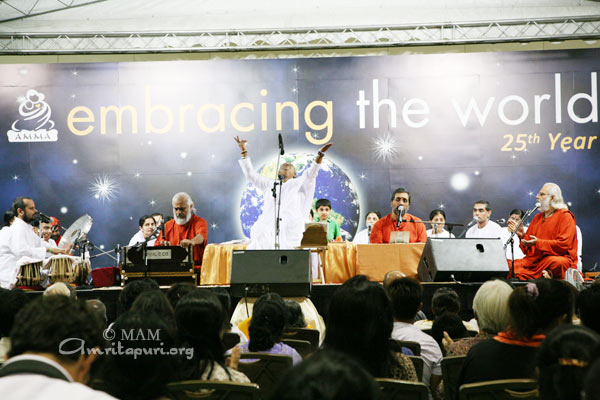 To show their appreciation of her 25th year of loving global outreach, the people of Singapore offered Amma a commemorative handmade quilt with small mosaics of hearts of 41 countries Amma visited.
The programs were held at Marina Bay Sands, Expo & Convention Centre. Large crowds were participated in the programs which over three days included a Puja, Satsang, Bhajans and Darshan.
– Tulasi