3 – 4 March, Pune, Maharashtra – Bharata Yatra 2011
Amma's programs in Pune were full of local flavor – Amma sang many bhajans in Marathi; some original and some classic bhajans that had been translated from the original Malayalam so that they could more easily touch the devotees's hearts. However the devotees seemed most touched by Amma's efforts to speak to them in a language they could understand. When she began the Manasa Puja in Hindi, saying, "Peeth bilkul seedha rakh te huye ankhen bandh karen," or "Sit with your spine straight, and close your eyes," the crowd broke into applause and cheers before settling down into the guided meditation, which Amma led entirely in Hindi.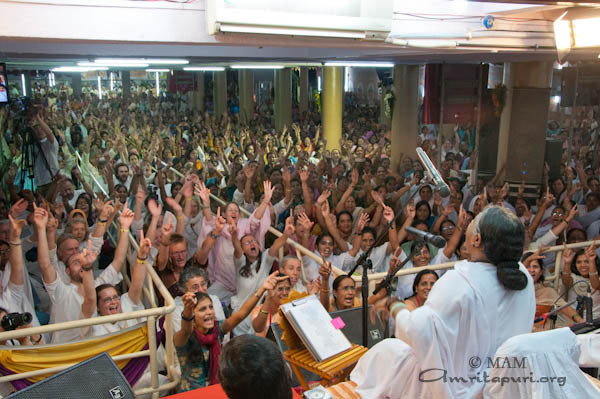 As part of the first evening's public program, more than 25 widows and other disadvantaged women, as well as an elderly blind man, were enrolled in the Amrita Nidhi Lifetime Pension program.
After receiving the pension, some of the recipients shared their thoughts. Ms. Pawar Vijaya Suresh commented, "I am very poor. I am not able to work. Now that I am getting this pension, I will be able to afford to eat two meals a day." Ms. Kantabai More shared, "Nobody is there to look after me, so I have been staying with my daughter. This pension will really help me." The blind man, Mr. Deepak Mhaske told a heart-wrenching story: "I used to have a job, but 12 years ago some acid splashed into my eyes in the factory where I worked and I lost my vision. My wife works as a housemaid but she doesn't earn much. We have one son, studying in the 8th grade. This pension will help us to pay his expenses and keep him in school." And Ms. Anandmaa Prakash Raj said, "I just want to thank Amma for giving me this pension. And to receive it in person—for so many years I have been waiting for Amma's darshan. Now I am finally happy."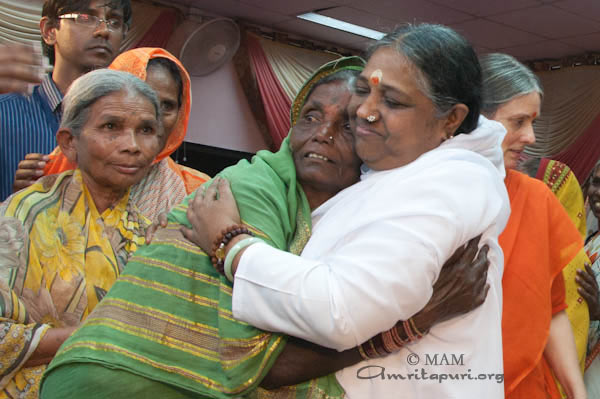 The Amrita Nidhi program is currently providing more than 50,000 widows and disabled people with lifetime pensions, with a goal to ultimately provide 100,000 pensions throughout India.
The 3rd of March was Sivaratri, and the Pune devotees were delighted to have Amma there to celebrate the festival day with them.
Amma reminded the devotees in her satsang that "God is always within us, awake all the time. But because we are in deep sleep, we are not able to feel His presence within. Sivaratri is a day when at least once in a year we try to sacrifice sleep and food and try to keep our minds focussed on the Lord. But keeping vigil the whole night just does not mean keeping the eyes open. We need to develop awareness in every thought, word and deed. Through this awareness, ignorance disappears. Darkness is not a thing that can be removed. When you bring in light, it disappears automatically. In a similar way, as awareness deepens, ignorance has to disappear."
Amma sang several Siva bhajans during the evening bhajan session before starting the darshan, and for the rest of the night and on into the morning the swamis and later Western devotees sang different renditions of Om Namah Sivaya.
Amma launched launched the Amala Bharatam Campaign in Pune as part of her program, calling on all those present to take it upon themselves to make India clean and beautiful again and distributing to handkerchief to all the students of Amrita Vidyalayam and all other children attending the program as well. The students enthusiastically answered the call, and they could be seen not only on the program ground but also in the surrounding area, picking up trash and sweeping the streets with smiling faces.
The following dignitaries shared the dais with Amma during her programs in Pune: Pune Collector Sri. Chandrakanth Dalvi; Sri. Yogesh Bahal, Mayor of Pimpri Chinchwad; Dr. P Vijay Bhatkar, Chairman, ETH Research Labs; Professor Viswanath Karad, Director, MIT – Pune; and Sri. Laxman Jagtap, MLA. Many other politicians, educationalists, entrepreneurs and scientists came to meet Amma during her two days in Pune.
At the end of the program, Amma sang the new Punjabi bhajan, Mere Mujhe Me to the delight of all.
– Kannadi