3 – 4 Jan, Kozhikode, Bharata Yatra 2011
For Amma her first and major program site has always been Kozhikode. This year too Amma flagged off her yearly marathon Indian tour, by travelling to Kozhikode. It was her 18th consecutive visit to the Brahmasthanam Temple of Kozhikode.
Amma reached the ashram, to the tumultuous welcome of the devotees. They had been waiting there for hours together, to receive their beloved Amma. The traditional 'Sinkari Melam' was a feast not only for the ears but also for the eyes.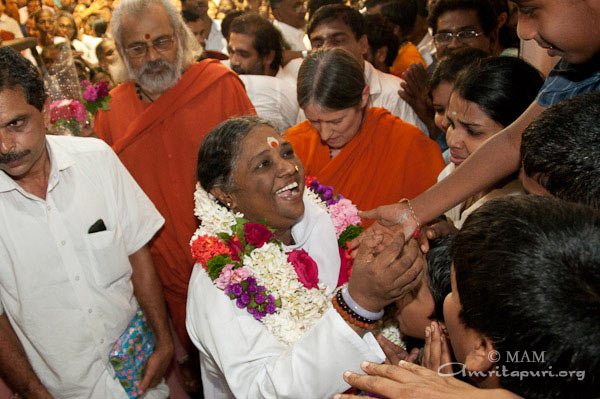 It was a memorable event with all the fanfare. The Collector of Kozhikode was there on the stage pledging all his support for the Amala Bharatam project and to keep the city clean. The nearby village members took a collective oath to make their village intoxicant-free.
Early morning of fifth, the hall was still full, but the darshan and the program were coming to its inevitable end. One could discern Amma's eyes radiating joy and love. As if she was responding to the pain of separation of her children, Amma sang a joyous Bengali rendition of 'Kotha tumi jononi" meaning 'where are you mother?' reminding that she is residing in our hearts.