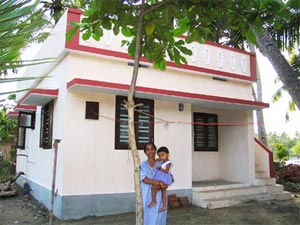 16 June 2005 — Alappuzha, Ernakulam & Kollam Districts, Kerala
The Ashram has finished building a total of 100 houses in Kerala as part of its the tsunami relief efforts. The government of Kerala has entrusted the Ashram with building 1,600 houses. The Ashram is the first NGO in India to finish building houses based on the government plans for the tsunami victims.
The first 100 houses completed by the Ashram in Kerala include 18 in Ernakulam District, 66 in Alappuzha District and 16 in Kollam District.
The 16 houses in Kollam are in the village of Kulasekharapuram (Klappana Panchayat, three km from Amritapuri). These houses were built for people who formally lived right on the beach. In case of future tidal flooding, the houses were rebuilt three kilometres inland.
These houses will be officially handed over to the Government on 18 June 2005.
The 66 houses that the Ashram built in Valiya Azhikkal, Alappuzha District are on individual private land holdings [pictured below]. It has a remaining 84 houses to builed in Alappuzha District.
Each of these 100 houses, occupying 430 sq. feet, consists of two bedrooms, two toilets, a kitchen, a living room and a veranda. The electrical, plumbing and painting in these houses are also complete.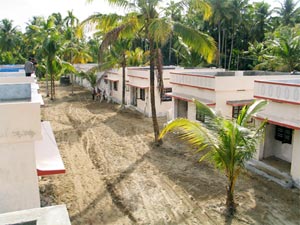 These house were built according to one of two plans: the ordinary houses and the tsunami-resistant houses. The families selected the plan according to their preference. The tsunami-resistant house is a two-storey structure built on concrete piles that extend seven metres underground and which extend upward in a column to the top of the superstructure.
These houses have been built in strict compliance with government plans. Government officials have been inspecting each stage of the construction work, before granting approval to the Ashram to proceed to the next stage of construction.
In Kollam District, construction of houses began on 11 May 2005, with the laying of the foundation stone. As of date, the piling work of almost 300 houses is finished, and 50 others have already been concreted as well.
In Ernakulam District, the Ashram was permitted to build 50 houses, but land for only 18 houses was originally allotted. Those 18 houses were completed on 11 April 2005. On 10 June, the Ashram started constructing the remaing 32 houses, following the government's release of more land.
The Ashram plans to finish building as many houses as possible before the monsoon gets heavier.
— Sakshi