18 June 2005 — Varavila, Klappana Panchayat, Kollam District, Kerala
oommen chandy receiving key from Amritakripananda puri
"I don't know how to thank Amma for her offer of unconditional aid and the plethora of services she has rendered," said the Honourable Chief Minister, Sri. Oommen Chandy, during the inaugural address. "The government has not been able to keep its promise of rehabilitating all the victims before the monsoon. The relief work done by Amma and the Ashram is an example for others to emulate," he added.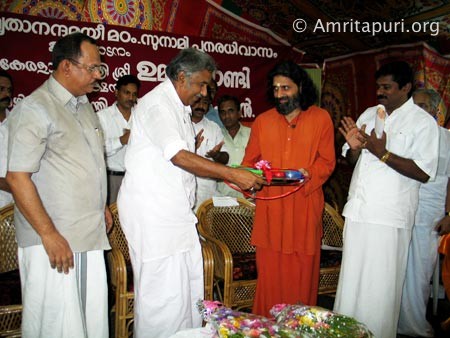 Swami Amritakripananda Puri handed over the keys to the 16 houses at a function held at Varavila in the Klappana Panchayat to the Chief Minister, who in turn, handed over the keys to the District Collector B. Srinivas.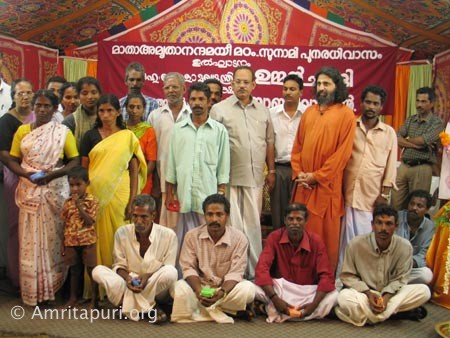 The houses are constructed at Klappana Panchayat. Each house, with an area of 430 sq. feet, consists of two bed rooms, a toilet, a kitchen, a living room and a verandah. The houses have proper electrical wiring and plumbing; overhead water tanks have been provided and septic tanks constructed. The construction of these houses was started on May 11 and finished in about a month's time.
Honourable Labour Minister Sri. Babu Divakaran distributed the driving licenses to the first batch of 60 youth of Alappad who had been given driving lessons at the Ashram's driving school. More than 1,000 youth have registered to learn.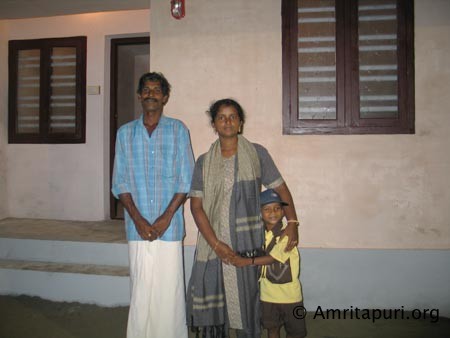 In his address the labour minister said, "The government is indebted to the Ashram for finishing the work in record time, understanding the suffering of the people. Those who have been working on the construction of these houses are role-models for others and they are to be applauded."
About 80 people will be able to move out of the temporary shelters and live in their own houses.
The Ashram is the first NGO in India to have finished building houses based on the government plans for tsunami victims.
–Kannadi