The villages of Vallikavu and Parayakadavu were transported into a grand mood of gaiety and festivity when the Amritamayi Jalotsov boat race was celebrated to commemorate the birthday of Mata Amritanandamayi Devi. On Monday, 18th September, the race was held for the third consecutive year on the Kayamkulam backwaters. Vallam Kali (water festival) is a sport art form unique to Kerala, a land of many rivers and waterways.
In this holy water festival, Alappadan Chundan emerged as the winner of the coveted Amritamayi Trophy of the year.
Distributing the trophies of Amritamayi Jalotsov and congratulating the winners, Amma said that more than who won, what is important is the spirit of effort and unity. 'A real festival is born when enthusiasm is combined with good samskara (culture),' said Amma, who reminded everyone that the real beauty of society lies in the harmony of hearts.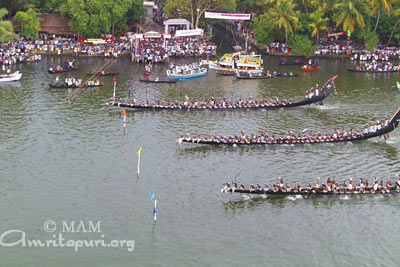 About 13 racing boats of various types from different parts of South Kerala participated in the event. Before the race commenced, there was a spectacular procession of diverse boats accompanied by traditional music.
The race started at the Sri. Krishna Swami Temple in Allapaad and ended at the special pavilion constructed at M.A. Math for the occasion. The competition began with nine snake boats; popularly known as the 'kings of the waterways', these exquisitely shaped boats rowed to the rhythm of the vanchippattu (traditional boat songs).
Shri. O. Rajagopal, Union Minister of State for Railways and Parliamentary Affairs, began the festival with prayers for divine grace and then by hoisting the flag. Shri. V.C. Kabir, Minister for Health and Sports, then formally inaugurated the jalotsav by lighting a lamp. He expressed his happiness that through Amma's inspiration, the Mata Amritanandamayi Math is integrating spiritual principles with charitable activities in multiple fields for the welfare of humanity.
Shri. E. Chandrashekaran Nair, Minister for Food and Tourism, who presided over the function, lauded the wide ranging humanitarian service projects of the Math. He observed that with the opening of Amrita Institute of Medical Sciences in Kochi, other hospitals in the private sector have been compelled to reduce their medical charges; medical treatment in the private sector has come within the reach of the poor. He said that surgeries which previously cost four to five lakhs of rupees are being performed today for just 60,000-70,000 rupees, just because of AIMS.
Shri. N.K. Premachandran, MP, eloquently praised Amma's magnanimity in caring for the poor and downtrodden. He praised Amma's guiding the M.A. Math to give importance to the concerns of common people and the stark realities of mundane life instead of confining itself merely to the spiritual field.