16 September 2008 — Bowanipur, Purnia District, Bihar
The Mata Amritanandamayi Math completed the construction of its first relief camp for victims of the Bihar flood today. The inauguration was conducted in the presence of the Minister for Labour Avdesh Narain Singh, District Magistrate C. Sridhar and Superintendent of Police Sri. B. Meena. The camp will serve as temporary shelter for approximately 500 flood victims until permanent housing can be completed for them. The camps include kitchens and bathrooms. The total area of the three shelters constructed is 6000 sq. foot.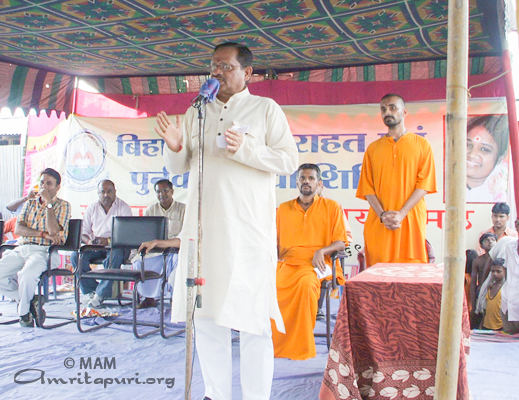 After lighting the lamp, the Minister of Labour addressed the gathering. "When the tsunami left thousands dead and lakhs of people homeless across the country, M.A.M was in the forefront of relief work and subsequently rehabilitated thousands of people by building several thousand houses in Tamil Nadu, Sri Lanka and other places," he said. "So when a similar calamity occurred in Bihar, we invited them and they immediately arrived with their medical team and started their medical services. Within a short time, they have put up these temporary shelters."
The minister then added: "The people of M.A.M are working day and night to serve the flood affected. In fact I wonder if they are even sleeping at night. We are very thankful to the Math for accepting our appeal and rushing to help us in time of need."
The District Magistrate similarly praised the Math for its service, mentioning that this project was the first time the Bihar Government has teamed up with an NGO [Non-Governmental Organization] to setup such a relief camp after the floods. He said that he was certain that it would work out well.
The program concluded with the Minister of Labour cutting the ribbon to the entrance of one of the shelters.
Upon the program's conclusion, the flood victims promptly moved into their new temporary shelters. Dinner was then served.
—Das