23 Aug 2010, Amritapuri
(Excerpts from Amma's Onam message)
"When a Malayalee* hears the word 'Onam,' the experience is like the simultaneous advent of a thousand spring seasons in the heart. Wherever one may be in the world, Onam is an occasion when memories of one's childhood—their home, their parents, their brothers, sisters and friends and the village fields in which they played—spontaneously spring forth. But along with reveling in fond memories of yesteryear, we also need to imbibe Onam's invaluable message and implement it the present. Along with lessons of love, happiness and fraternity, Onam also reminds us to cultivate selfless devotion, a charitable nature, self-sacrifice, self-surrender and other such values.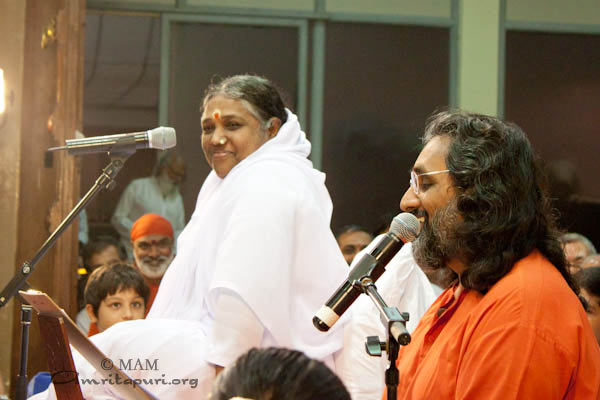 Many regard Lord Vishnu as the one who pushed the righteous king Mahabali down into the netherworld. If this is correct, why would we welcome Lord Vishnu along with Mahabali on Tiru Onam? In reality, the Lord didn't push Mahabali down; he lifted him up to perfection. Not only that, Tiru Onam is the day when the all-pervading Vishnu consciousness incarnated in the world as Vamana. On this day, we welcome both Mahabali and Lord Vishnu into our homes and hearts. This means welcoming devotion to God and love for all humankind. We should try to awaken an awareness of dharma and invoke God's grace. If we want to attain success in life, these are essential. Mahabali's story is of someone surrendering all his victories and failures and material gains to the Lord and becoming one with pure consciousness.
Celebrations like Onam help us to annually renew this love. Onam is a day when we can release ourselves from our self-created prisons of selfishness and take a breath of fresh air. It is this freedom that is the source of the happiness we experience during Onam.
The Onam of today is very different from the Onam we celebrated as children. The traditional Onam flowers, the butterflies and dragonflies that dance in the air, the banana-leaf plates and the pookalams—these are no longer essential aspects of Onam, like they were in the old days. Pounding the rice husks, children searching for flowers, exclamations of joy, children playing in fields and the traditional Onam games are becoming less and less common. The soil, the water and the earth that we have polluted add to our sorrows.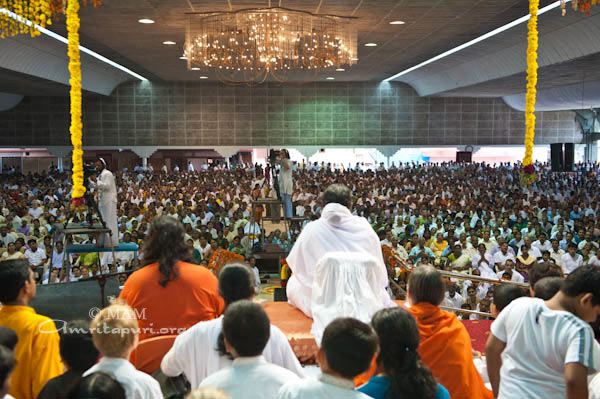 We, who have already discarded Sanskrit, are now beginning to discard our own mother tongue as well. Pure Malayalam and proper Malayalam grammar have been lost to us. Furthermore, a new generation is coming up that doesn't even know how to read, write or pronounce our language properly. Their parents even take pride in this. Our traditional arts and sports, which bonded human hearts and uplifted people by helping them to remember God, are also fading away. The merging of hearts and the joy of sharing are also become less and less common.
In short, the Onam of the present-day Malayalee is an Onam without a soul. Still, Onam and its memories come, like a shower of rain in a desert, consoling us and awakening our hopes. But a tinge of sorrow also comes to our hearts. In fact, Onam is a call for us to return to a more natural and unpretentious way of life. It is a call to reclaim our heritage.
Just as plants and trees bring forth flowers from within, let us awaken the goodness inside of us. Let us maintain a space in our hearts for others. Let us bow down to the divine presence that pervades the earth and the sky. Thus, let us together try to make every day an Onam. Let my children have the strength for that. May grace bless everyone."
******
* Malayalee – one who speaks the language Malayalam