7 January 2005 — Srayikkad, Alappad Panchayat, Kollam District, Kerala
It was just on the third of January that Amma announced Her plans to dedicate 100 crores in aid to tsunami victims. And now, just four days later, the first phase in that plan is well underway—the construction of temporary shelters. More than one crore rupees has been already invested in the project.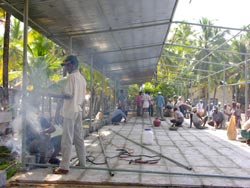 The 10 acres the Ashram owns in Srayikkad, where the shelters are being erected, have already been cleared. Half of the foundations have been laid, and three of the buildings already have their metal frames and roofs in place. This building can be inhabited at any time.
A mix of employed labour and devotee-volunteers has been working at the shelter site for the past several days under the supervision of Amma's brahmacharis. Some of the devotees who have come to do electrical and plumbing work are pitching in with more basic tasks, such as shoveling sand, until the time comes for their expertise.
The cement bricks used for building the foundations have been brought from Kochi, where the Ashram manufactures them.
An estimated 500 people will live now in these shelters. Currently these people are being housed at various relief camps on the mainland. But as the number of school-based camps has reduced since the end of winter vacation, the Ashram is trying to get the Srayikkad shelters inhabitable as soon as possible. Thus the work is going on around the clock.
–Tulasi