15 January 2005 — Amritapuri
In 2001 when the earthquake devastated Bhuj, Amma responded much the same way she is now. She immediately sent doctors, ambulances, brahmacharis and devotees to help. A year later, the Ashram had entirely reconstructed three whole villages—a total of 1,200 houses, plus hospitals, community halls, temples and mosques.
Gujarat people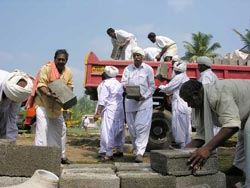 Amma was there for Them…Now They are Here for Amma
So, when the sarpanch [village chief] of Mokhana heard that "Mataji's" village had been hit by the tsunami, he and nine other villagers boarded the Gandhidham-Nagarcoil Express and came to help.
"When things were bad for us, Mataji came and built villages," said Lakshmanbhai, the Mokhana sarpanch. "Now things are bad for Mataji's village, so it is our dharma to help. Amma is Sri Krishna to us. She will do everything."
Patel, a member of the team said compared to their own losses at home, the Kerala village was more fortunate. "If we could win back our lost hopes, surely these people will also do so and we all are here to help them."
Before departing for Amritapuri, Lakshmanbhai and the sarpanches of the other two villages rebuilt by the Ashram (Dagara and Modsar) also went door-to-door collecting goods for use in Amma's relief work. In the end, the families of their villages gave 20 tonnes of grains, blankets and clothing. Unfortunately, the cost of renting a lorry to bring those goods to the Ashram was more than they had. But the sarpanches decided to donate it to the local Collector in Amma's name for use in tsunami relief.
Amma adopted three villages of Mohana, Modser and Dakara of Bhuj in the wake of the quake and constructed about 2000 homes in these villages for the displaced.
–Sakshi