15 January 2005 — Srayikkad, Alappad Panchayat, Kollam District, Kerala
A storeroom, medical clinic, police-aid post and information office are now functioning at the Ashram's temporary shelters in Srayikkad.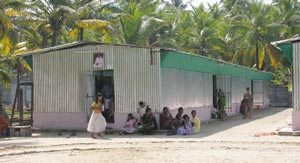 The Ashram has provided the children living there with footballs and other toys.
200 families have moved in to the shelters thus far, and more are coming.
One of the five halls was to be used for vocational training, but as the pressing need is shelter, it has been decided to let families stay there instead.
Ashram is constructing a new sixth hall to accommodate even more people.