28 December 2004 — Relief Camp at Amrita University, Amritapuri
Immediately after the flooding, Amma ordered six ambulances from AIMS Super Specialty Medical Hospital in Cochin to be sent to the Kollam District in order to facilitate the Ashram doctors in treating the distressed and injured. The ambulances were fully equipped with medicines, ventilators, etc., even having the capacity to house small operations.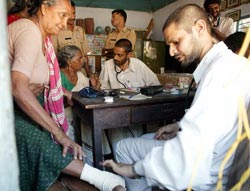 As soon as they reached, 10 doctors accompanied by teams of assistants, began making rounds of the all nine relief camps in the mainland. They also made trips into the evacuated coastal area from Azhikkal to Pandarathuruttu. Within 48 hours they had already distributed more than four lakhs [Rs. 400,000] worth of medicines and served more than 2,000 people .
"You see, these people know us," says Dr. Raghavendra, a brahmachari who works at AIMS and the Amrita Kripa Charitable Hospital in Vallikkavu. "Many of them have been coming to the Ashram Hospital for years. When they see it is us, they come running."
"We don't have badges," says Dr. Chandrasekhar, another brahmachari who serves at Amrita Kripa, "but even the people who do not know us by face, know we are Amma's brahmacharis by our haircuts and dress, and they immediately open up to us. Their main problem is depression. So many have lost everything."
"All they know is gone," adds Dr. Ashok, a brahmachari brain surgeon who is based at AIMS. "Imagine, you have nothing but a small house on the beach for 30 or 40 years and then in five minutes, that is completely washed away. They are in shock. They have lost daughters, husbands, wives, fathers… Some are suffering from small wounds, cuts, abrasions, pieces of glass lodged in their feet. We treated someone the other day for a fractured rib. But the big problem is depression and anxiety. They really need people to talk to them. We ask them a few questions, calm them down, and then they immediately open up and just start crying. They tell us 'My house is gone' or 'I lost my child… I lost my wife.'"
"We trust them because they are from Amma's Ashram," affirms one of the evacuees. "One medical team from another organisation came and set up a table full of medicines. They then saw about 10 people, took 20 photographs and packed up and left. The next medical team that came we just told them to get lost. We wouldn't even let them get out of their vehicle. But we know these are Amma's brahmacharis so it is different."
Right from the beginning, the doctors knew it was serious, says Dr. Ram Mohan, a brahmachari serving at Amrita Kripa. "Within one hour after the waters hit, our brahmacharis brought in the bodies of two men who had drowned, and these were big men—young and strong."
After 48 hours of relief work, the doctors have heard many sad stories. "We came to one camp and this woman just out of nowhere became hysterical. She had just learned that her 15-year-old daughter had been discovered among the dead," says Dr. Raghavendra. "Another man was complaining of chest pain, only upon speaking with him did we realise it was because he too had lost a daughter."
Dr. Ram Mohan tells similar tales. "One man came in the other day, and from his demeanour you could immediately tell something was seriously wrong. He was reactionless, completely without emotion, indifferent. Slowly we came to realise that five people in his family had been killed."
They are helping all they can, but for some wounds there are no painkillers.
–Kannadi