11 April 2005 — Mayabazar in Edavanakkad, Ernakulam District, Kerala
The first 18 tsunami-relief houses built by the Ashram were finished today. Complete with red-oxide cement floors, electricity, plumbing and painted walls, the houses stand 100-percent ready for inhabitation.
Tsunami houses ready at ernakulam, kochi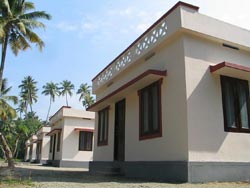 The houses are located in Mayabazar in Edavanakkad of Ernakulam District. The Ashram has informed the District Collector of Ernakulam of the houses' completion.
Amma's Ashram was the first NGO to complete tsunami-relief houses and hand them over to the government—despite a long list of delays. (read more)
"Actually it is amazing that the Ashram was able to complete these houses so quickly," says Brahmachari Dhyanamrita Chaitanya. "We were in fact not even on the original list of organisations being allotted houses for construction in Ernakulam District. We were only included in discussions regarding the construction on 23 January. The 18 houses were only allotted to us on 11 February, and even then the GCDA was only able to decide on the construction-site location on 2nd March. We started construction on 6th March, immediately following a foundation-stone-laying ceremony involving the District Collector. But then the GCDA changed the layout plan and we had to demolish the foundation and start over again. It wasn't until 11th March that we received the final layout plan. So on the Ashram's part it only took one month to finish the 18 houses. It is really amazing that the Ashram was able to finish these houses so quickly."
–Sakshi