4 May — Trissur, Kerala — Bharata Yatra 2007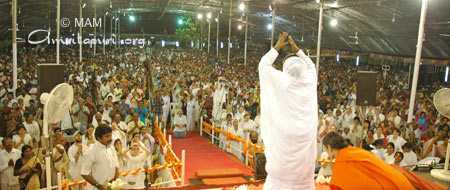 At Mata Amritanandamayi Devi's Brahmasthanam Festival in Trissur, the new Amrita Nilayam Working Women's Hostel was inaugurated by the city's mayor, Professor R. Bindu. The aim of the hostel is to provide safe living quarters for women working in the city of Trissur. In her speech, Professor Bindu thanked the Mata Amritanandamayi Math for building the hostel. "There is no doubt about it," she said, "Amma is using all the financial and intellectual resources of her organization for the welfare of society.
"Amma's mission is providing invaluable support in the fields of health and education, and is a great asset to society. With its ability to organize effectively and bring together people of diverse backgrounds for a common cause, the Ashram is able to carry out so many charitable activities. A few minutes ago, Amma told me, 'Compassion is the greatest quality.' May her mission be able to create a torrential flow of compassion among human beings. In this age where human beings have become like individual islands, the desire for self-transformation has brought so many people together here. Amma is at the hub of that desire for transformation. She is the central attraction which brings all these people together. To her, I offer my pranams."
Renowned Kerala playwright, screenwriter and novelist Sri. P.R. Nathan was also on hand to release the official program souvenir. In his speech, Sri. Nathan said, "I met Amma 20 years ago. Her words have influenced me so much. They are reflected in my stories, poems, and screenplays. I will try to consolidate what I learned from Amma in one or two lines: The message all beings in the world give us is a message of service. From the time we get up in the morning, the sun rises, the coconut tree, the cow—all animals and beings are doing service. We give what we don't want to the cow—waste food and hay—and we take what we want—milk. When all beings in this world display the attitude of service, shouldn't human beings also have this attitude of service? This is what Amma asked me 20 years ago. Amma also helped me to learn that love is something that should be given always. You don't have a right to complain that you didn't receive love. You, who are the embodiment of love, should give love always. That is Amma's message. We can recognize this message in Amma's each and every action."
Amma's two days in Trissur culminated in a massive downpour—both of water and of devotion. As the monsoon rains ushered forth, Amma and the devotees sang "Mata Rani," opening the floodgates of their hearts.
-Kannadi