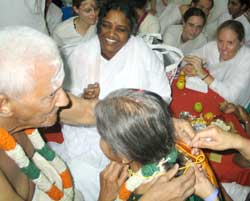 4 December 2004 — Amritapuri
The groom was 80, and the bride was in her 70s. As he approached Amma for marriage, one of the relatives called out, "Amma, he's getting married for the third time!"
And then another, "And it's the same girl!"
Amma and everyone around started laughing, but the couple was very serious.
Actually, they were first married 60 years before. Then, wanting to renew their bond, they were married again 40 years later. And during darshan on the fourth of December, Amma married them for a third time. It is a custom for Brahmin men to remarry their wives at 60 and 80.
The couple, Lalita Raman and Colonel Raman, came all the way from Hyderabad to ask Amma to perform the ceremony. They first met Amma in 1987 and have dedicated their lives to Her ever since. Even at this age, both of them go house to house, campaigning for Matruvani, the Ashram's monthly spiritual magazine.
Throughout the ceremony, Amma continually joked with the bride and groom—-who's wedding party included many family members. "Everything she has is old," Amma said. "Her fridge is 40 years old, her car is 40 years old…."
In these days when divorce and remarriage are becoming so prominent, it was touching to see a couple so devoted to one and another. The wife even brought something from 60 years before to be used in the ceremony—-the original cloth garlands from their first wedding.
And when Colonel Raman tied the taali around the neck of his bride for the third time, Amma said, "This is moksha kalyanam—marriage for liberation.
—Sakshi