1 December 2004 — Amritapuri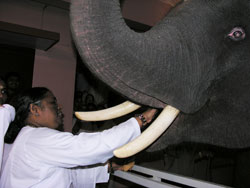 "Where's Ram? Where's Ram?" So many children, and adults, have been asking. The truth is for the past six months, he's been away at school in Trishur. Learning to become a truly great temple elephant. Trishur is the Elephant Capital of Kerala, where dozens of elephants regularly come together for elaborate temple programs.
But now he's back—on a little holiday to see his Mother. So now, each night, there are once again two elephants waiting for Amma when She returns from singing bhajans.
—Tulasi