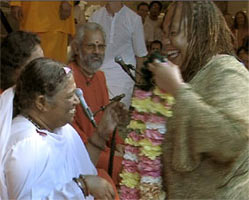 22 June 2006 — Los Angeles, California, USA
Ms. Yolanda King, daughter of the late Dr. Martin Luther King Jr., came for Amma's blessing in Los Angeles. Just before arati, Ms. King garlanded Amma and, with a voice full of emotion, shared her appreciation of Amma with the 3,000 or so people who had come to have Amma's darshan.
"It gives me absolute joy being here in this experience again," said Ms. King. "The first time I connected with Amma, my heart opened up and for two days my feet did not touch the ground. And I've continued to follow her, support her and love her. And she, for me, is the embodiment of unconditional love on this planet at this time. And my prayer is that she is supported in all the tremendous work that she is doing on this globe. I will be doing all that I can. And I know that all of you will be doing what you can. Thank you. What a joy, what an honour to be in this magnificent—her magnificent—light."
The ballroom at the Los Angeles Airport Hilton filled with applause.
Dr. Martin Luther King Jr. played a leading role in America's civil-rights movement of the 1960s. Through his philosophy of non-violent protest, Dr. King helped attain equal rights for African Americans in the United States. Yolanda King is a member of the Board of Directors for the Martin Luther King Jr. Center for Non-Violent Social Change. Ms. King participated in Amritvarsham50, Amma's 50th birthday celebrations, in Cochin.
—Tulasi