Port Blair, Andaman — 24 March 2008
When the tsunami hit the Andaman-Nicobar Islands, nearly 10,000 houses were destroyed. On March 24, Amma flew the 1255 kilometers from Kolkata in order to bless the people there with her darshan and to distribute the keys to 50 tsunami-relief homes constructed by the Ashram. The program was held in Bambooflat, South Andaman. Houses were constructed both there and in Austinabad.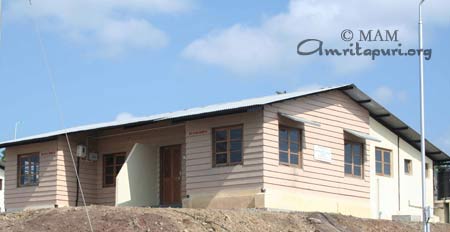 A symbolic key to the houses was blessed by Amma and then handed over to Union Minister of State for Human Resource Development, M.A.A. Fatmi. The key was then received on behalf of the Andaman & Nicobar Administration jointly by the acting chief secretary, Arvind Ray, IAS, and the commissioner of R&R, Dharam Pal, IAS.
Another 150 homes are still in construction. They will be finished by the end of April.
Amma's program was the largest gathering in the history of the Andaman Islands. More than 15,000 people gathered, with the grounds overflowing, even before Amma's arrival.
– Tulasi