15 Oct 2006, Helsinki, Finland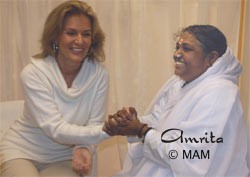 On behalf of the Government of Finland, the Honourable Cultural Minister, Tanja Saarela, welcomed Amma to Helsinki. In her speech, the honourable Minister Tanja said, "Globalisation as such is neither good nor bad, but there is a need for examples against greed and uncaring behaviour. A good example of this is Amma's wide-ranging work for the poor, the sick, and those who have suffered in the natural disasters.
Finland was the first country in Europe to grant voting rights to women in 1906. To commemorate that event of equal rights for women, a jewellery collection named "Woman's Voice" was made. Now, one hundred years later, Tanja presented Amma with a replica of that jewellery collection to honour her compassion and love for everyone.
While presenting this the Minister said, "Humankind needs every possible voice for peace, mutual understanding and unselfish work. Amma's charitable activities are good examples of this." The Cultural minister also reminded that everyone needs an unconditional hug that does not demand anything.
Thousands of people got Amma's blessings and hugs during the weekend in Helsinki.
–Tulasi