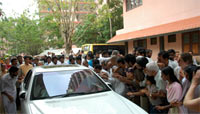 3 December 2006, Amritapuri
Amma returned to Amritapuri this afternoon at 4:47pm after her two month tour of Europe and the US.
Hundreds of eager Ashramites, visitors and students lined the Ashram grounds, hoping to get a glimpse of Amma as her car made its way to her accommodations. Some had not seen Amma in months, others had come from the US or Europe where they had just seen her – still thirsty for her love.
As the car slowly inched forward, window down, Amma extended her hand out to touch those of her children When the car came to a stop in front of Amma's room, a hundred or more people were gathered – some of whom had been waiting for hours. As Amma headed up the stairs, she jokingly asked those who had forgotten to eat, or had fallen asleep while waiting to raise their hands. Many did. After a few laughs, she blew kisses at everyone, then headed up to her room. A few moments later, Amma reappeared at her window – lovingly glancing down upon her children who had missed her so much. She glanced around, waved her hands, smiled, then closed the curtains. Our beloved Amma is back home.
–Sree