8 Feb 2008, Kannur, North Kerala, Bharata Yatra
The program in Kannur was held at the Jawahar Municipal Stadium which was crowded with devotees from all parts of the district. This was the second time Amma's program was held in this venue.
Amma was welcomed with a 'poornakumbham' ceremony performed by Jayasuryan Bhattatirippad, and a padapuja by the film actor Vineeth along with his wife.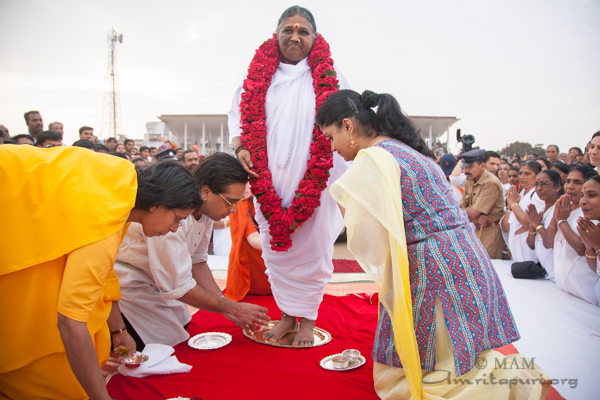 Present on the stage were the following dignitaries:
K. Sudhakaran, MLA; Bharatiya Janata Party State president P.K. Krishnadas; Kannur municipal chairman K. Upendran; Inspector-General of Police (North Range) A. Hemachandaran.
Scholarships were accorded by M.A.M. to as many as 4,000 farmer's children between 10 and 15 from the districts of Kannur and Kasargod as part of the Vidyamritam scheme.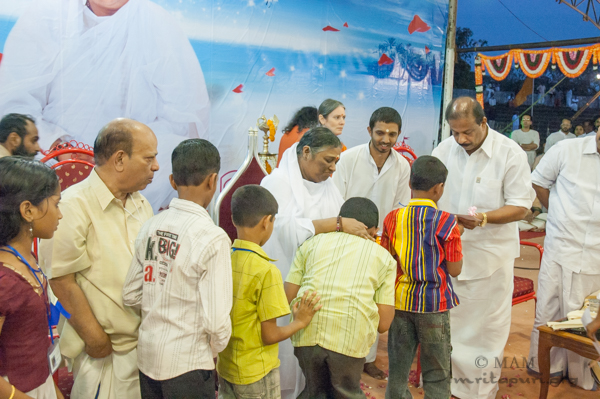 In her address Amma spoke about the need for love and compassion to bring about peace in one's mind. She spoke of how people are afraid* when they hear of Kannur and how that should not be the case. She also reminded everyone of the fruitlessness of material achievement.
Darshan lasted until 11 am with people eagerly waiting all through the night to receive Amma's blessings.
– Tulasi
(*Political violence is common in the Kannur district and is highest in the state. )